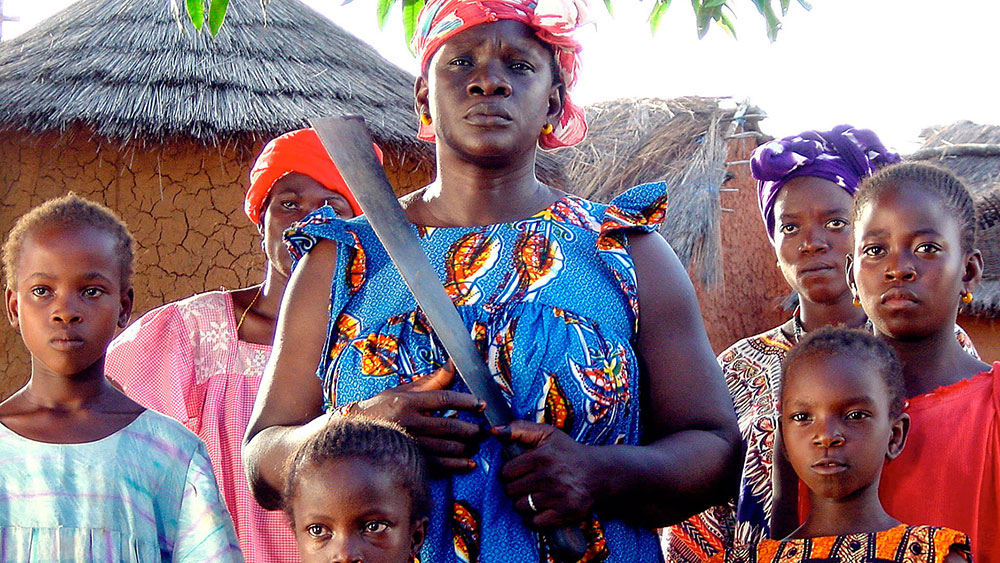 September 19th 2023
On some prints of Ousmane Sembène's exceptional final film Moolaadé (2004), the title is translated as "PROTECTION"—just like that, in all caps. The typographic emphasis suggests the untranslatability of the Fula word; "protection," yes, but more than that, a magically enforced right to refuge. And the four young Burkinabè girls who evoke its power during the opening minutes of the film are, specifically, seeking protection from their genital mutilation ceremony.
Wisely, the girls go to the house of Collé Ardo (Fatoumata Coulibaly) to ask for the moolaadé. Having recognized the often deadly "purification" procedure for what it is, strong-willed Collé previously broke with village tradition by refusing to have her own daughter, Amsatou, cut. But harboring the four girls, whose own mothers want to see them purified, from the sinister knife-wielding priestesses puts Collé and her family in the spotlight. Even Amsatou, who is engaged to the wealthy, Paris-based son of the village leader, is suddenly re-evaluated as impure and thus unmarriageable.
But Collé digs her heels in, and the village men begin to fight back. Collé and her allies' resistance to tradition is assumed to be the result of outside influence, so the husbands decide to destroy their wives' radios—an unpopular course of action that increases sympathy for Collé among the women, who remember their own gruesome purification ceremonies. But it is Collé's husband in particular who faces embarrassment for being unable to control his favorite wife; when he is goaded into punishing her publicly, even more women defect to Collé's side.
For as weighty as its subject is, Moolaadé is frequently spirited and humorous. Especially wonderful are the domestic scenes of women gossiping, caretaking, and goofing off during household chores. But as Collé is pressured to say the word that will break the protection of the moolaadé over the four children, the film grows darker. A loveable outsider is murdered; two other girls who fled the purification ceremony are found in the bottom of a well, where they've thrown themselves in despair.
Moolaadé is an empowering feminist film, but Sembène is careful not to claim to have all the answers. Heroes may protect the vulnerable, but who, then, will protect them in return?
Moolaadé screens tonight, September 19, at Film Forum as part of their Ousmane Sembène retrospective.