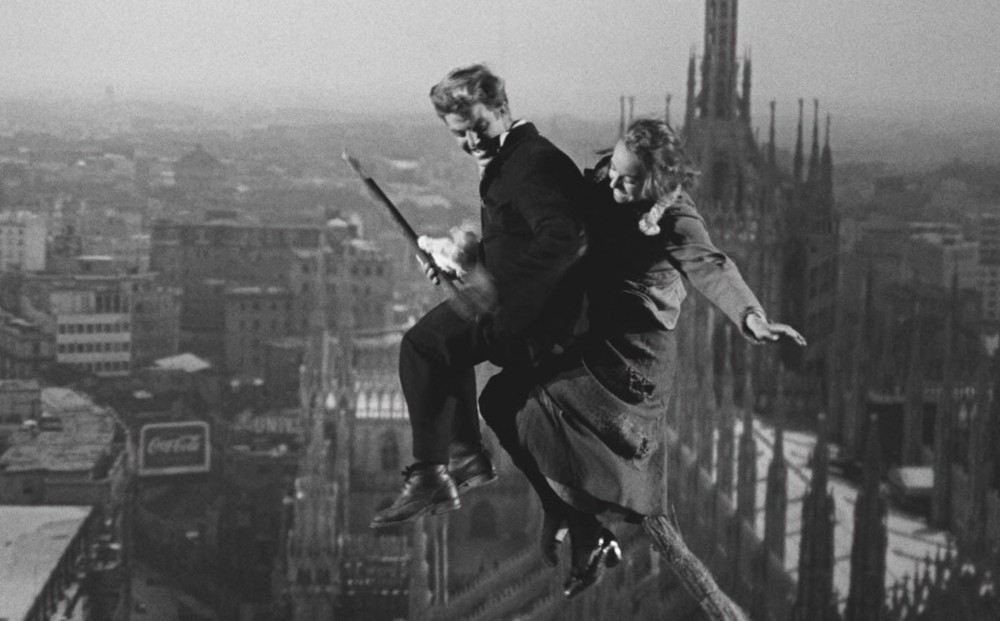 December 11th 2021
Vittorio de Sica followed The Bicycle Thief (1948), his international breakthrough, with Miracle in Milan (1951), a joyful fairytale set in a shantytown on the outskirts of the developing, post-war Italian city. De Sica and Cesare Zavattini adapted the script from Zavattini's novel Totò il Buono (1943), which the writer initially conceived as a film he would direct starring the comic actor Totò, Italy's "prince of laughter." Their collaboration was the fifth of twenty-six films they would make together, and cast postal-worker-turned-actor Francesco Golisano as its spirited star instead. Miracle in Milan won the Palme d'Or at the Cannes Film Festival in 1951 and generated considerable praise.
As the film begins, "Once upon a time" stretches across the screen in loopy script, and an old woman (the silent-screen star Emma Gramatica) finds a baby in a cabbage patch. The infant grows into Golisano's Totò, a cheerful young man who helps the city's unhoused people build a thriving community on an abandoned plot of land. When the group strikes oil, local businessmen roll up in their shiny cars and fur-trimmed coats hoping to capitalize on the findings; they bring along truckloads of police to forcibly root the community out. The old woman who raised Totò visits him as an angel, giving him a magical dove that can grant wishes. Through magic and collective spirit, the group nearly thwarts the capitalists' takeover. In the end, Totò and his friends fly off into the horizon on broomsticks (here both a symbol of sorcery and the working class) in a scene that's simultaneously enchanting and demoralizing—the poor, quite literally, having no place in the city.
In Miracle in Milan, De Sica gilds the elements of Neorealism that he perfected in previous films—non-actors, real locations, working class themes—with the illusion and fantasy of Magic Realism. For MoMA's 1943 exhibition Realists and Magic Realists, Alfred H. Barr, the museum's intrepid first director, noted that contemporary painters like Edward Hopper, Jared French, and Paul Cadmus employed the style as "an exact realistic technique [to] try to make plausible and convincing their improbable, dreamlike or fantastic visions." In Miracle in Milan, De Sica displays a similar sense of realist mastery, but also understands that the photographic nature of cinema would lend his fantastic scenario an implicit plausibility. By trusting the medium, De Sica, one of cinema's greatest humanists, unlocks a door to beauty and a truth (tragic as it may be) beneath the rags and dirt.
Miracle in Milan screens through December 16 at Film Forum in a new digital restoration.