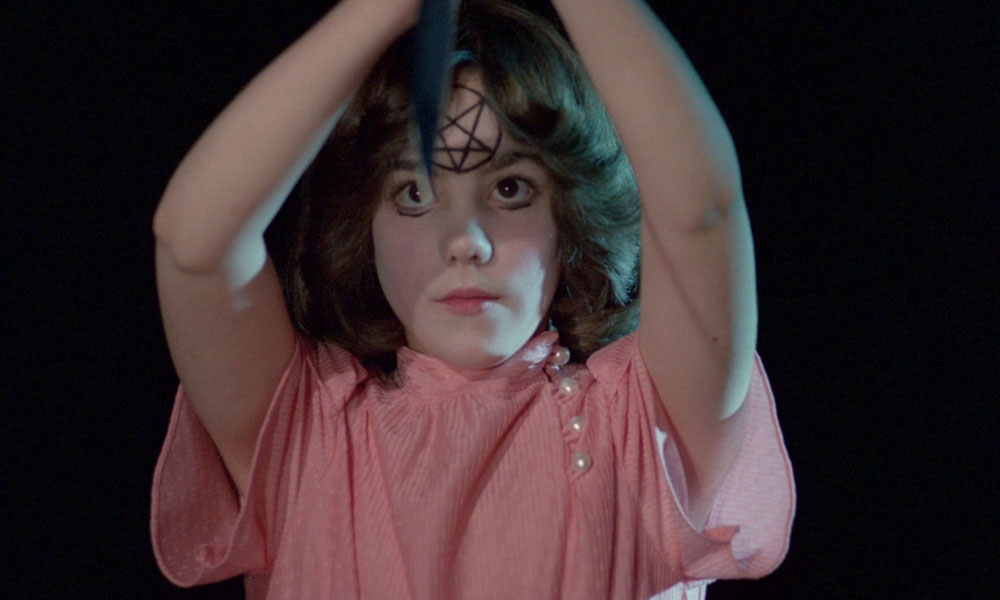 May 12th 2022
Autumn in rural Pennsylvania is a hotbed for sadistic cops and Satanic cults in John A. Russo's Midnight (1982), an adaptation of his 1980 horror novel by the same name. One half of the Night of the Living Dead screenplay dyad (alongside George A. Romero), Russo assembles Midnight like schlocky porn: Ostensibly pious teen Nancy (Melanie Verlin) hightails it out of her suburban digs when her stepfather (Lawrence Tierney, truly) drunkenly attempts to bed her. Hitchhiking her way to her sister's home in California, Nancy meets two Fort Lauderdale–bound nice guys who warily offer her a ride. After pilfering bread and beer and fleeing from police, the trio unwittingly plunge into a Satanic cult camping in the woods, just in time for their pentagram-laden, throat-slitting sacrifice.
True to form, Russo is indulgently referential, with Midnight playing out like a low-grade The Texas Chainsaw Massacre (1974) meets Psycho (1960) in the suburbs of Pittsburgh, complete with backwoods slaughters and mommy's corpse stationed at the kitchen table. Critics at the time found that the film's potential was spoiled by its lack of both humor and horror. It's true that Midnight's genre truisms don't seem to reflect a turn for the subversive, nor a reappraisal of its influences, but there's a distinct appeal to a properly gory road movie—this one with special effects by frequent Romero associate Tom Savini. The film also feels decidedly anti-carceral, depicting police as piggish thugs and rapists, blurring together the villainy of law enforcement and a bloodthirsty cult. The threat of police presence looms just as heavy as the knife-wielding Satanists sloping over tombstones and lurking behind shower curtains.
In the United Kingdom, the film became caught up in the video nasty panic, in which the National Viewers' and Listeners' Association confiscated low-budget horror/exploitation films circulating on videocassette, finding them in violation of the Obscene Publications Act 1959. It's unclear what exactly did the film in: beheadings, sexual abuse, occultism, shoplifting, or bloodied bodybags. But the police seizure of Midnight tracks with its anti-Puritan sensibilities. It's a horror film so mild as to inspire criticism on its own terms, but vexing enough to spook the censors all the same.
Midnight screens tonight, May 12, at Nitehawk Williamsburg on 35mm.