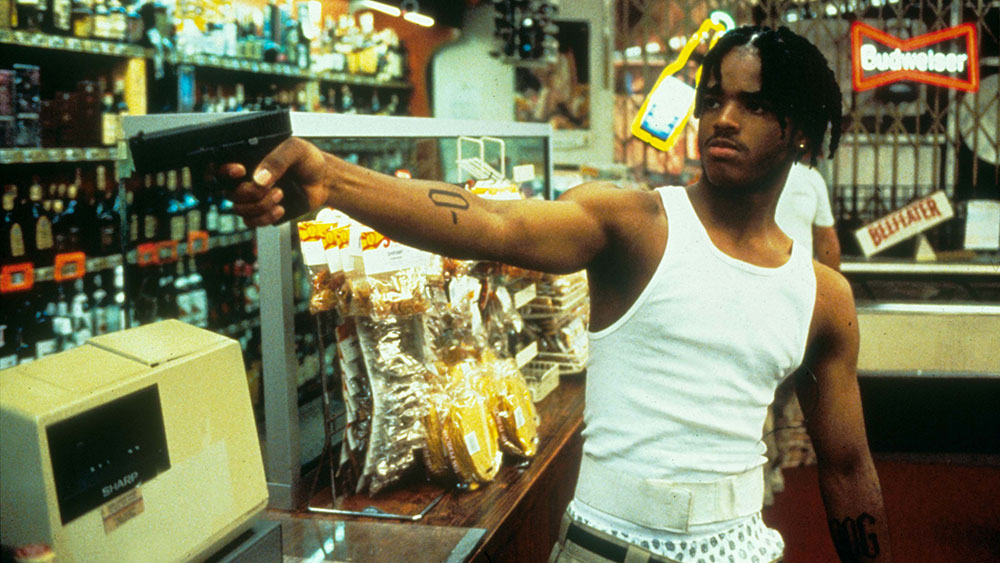 January 11th 2023
"Over 60% of rap music albums, which generate over $700 million annually, are purchased by white teenagers." In a 1993 episode of his eponymous talk show, Charlie Rose introduces a discussion about hip hop culture with this statistic. The roundtable is between a young KRS-One, record executive Russell Simmons, and music critic Stanley Crouch and is worth watching, if only for Crouch's provocatively unfashionable views; he compares Eazy-E's unflattering portrayal of South Central LA's Black community to The Birth of a Nation (1915) and eventually lures Simmons into a shouting match about police violence by quipping that "those killing the most people are not the cops." But some of Crouch's observations about rap culture are undeniably accurate. He proposes that, aside from being a musical genre, rap is "a phenomenon that you cannot disconnect from the kind of youth rebellion that has been sold to adolescents in America by mass media." He continues, "There's always been an appetite for barbaric images of Black people," attributing the commercial success of rap primarily to the savvy of white record executives.
Earlier that year, the Hughes brothers' debut feature, the now-iconic hood movie Menace II Society, had premiered at Cannes. Inextricable from the gangsta rap phenomenon, Menace has a soundtrack featuring the likes of N.W.A. and DJ Quik, and the debates around the film's portrayal of gang violence, sexism, and drug use mirrored those swirling around rap music. In a 1994 interview with Henry Louis Gates Jr., the 21-year-old filmmakers echoed many of the points Crouch had made about the genre on Charlie Rose. Allen says, "Being black, being raw—that's what the media dictates: that black is a hip thing. I know a Muslim, I know a middle-class black man who's just normal .‌ . . But the media wants 'niggaz.'" The interview is shot through with the Hugheses' palpable anger at being pigeonholed as Black filmmakers rather than as filmmakers tout court. Albert says, "I don't think people at the studios look at us as filmmakers. They look at us like 30% filmmakers and 70% trophy or novelty item." As a sign of their frustration with being ghettoized by the industry, they spend a lot of time talking shit about John Singleton, Spike Lee, and Matty Rich, other up-and-coming Black directors to whom they were constantly being compared ("Every single interview we've been in they bring up Boyz n the Hood [1991]"). The beef between the Hugheses and Tupac Shakur—who was originally cast in Menace but was let go due to creative differences—is also well documented.
Craig D. Lindsey has written in Criterion's Current that Menace II Society is first and foremost a movie for white people. The Hugheses have publicly confirmed this; in a 2010 interview for GQ, Allen says, "We made the film to inform [white people] of something they didn't know. That black kids don't just pop out the womb shooting guns for no reason." Tyrin Turner's voiceover is often didactic, spelling things out for the benefit of naïve white viewers ("Out here, there was shit that couldn't be learned in no classroom"), and many of the cholo and crackhead stereotypes bring to mind Crouch's criticism of the tropes of gangsta rap playing into the minstrel show tradition. Its box-office success alone confirms that Menace's appeal went far beyond Black audiences, grossing $30 million against a $3.5 million budget. Still, white people would be hard-pressed to find a flattering avatar in the film; the only white characters with any lines are abusive cops and a Westwood yuppie (Ian Davis) who hires Clifton Powell to steal a Nissan Maxima. Another racial dynamic on people's minds was the tension between the Black and Korean communities of South Central LA after 15-year-old Latasha Harlins was fatally shot by a Korean-American liquor store owner in 1991. The Hugheses have said that at a test screening of the film, they were disturbed when "500 black kids" cheered at Larenz Tate shooting the Asian convenience store owner. "That's not what we wanted," Albert laments.
The "authenticity" of Menace is often called into question because the Hughes brothers and screenwriter Tyger Williams grew up around Claremont, California, a white, affluent suburb (where, incidentally, Stanley Crouch also spent his youth). They're definitely middle-class kids slumming it, but as Williams says in an interview in the Los Angeles Times, "For me, basically the things that any black male in America goes through are the same, whether you're raised in Bel-Air or you're raised in Watts." In their interview with Gates, Albert defends their right to tell urban stories ("Pomona is a fucking city") and Allen points out that Tupac (for whom the brothers directed two music videos) is from Marin County, "one of the whitest communities out there."
Menace II Society was the second feature of cinematographer Lisa Rinzler, who imbues the film with a surgically precise yet expressive visual language. Soon after being trained as a painter at Pratt Institute, Rinzler decided to switch to cinematography ("no matter how hard I tried, I couldn't put enough movement into my paintings") and went on to shoot Tamra Davis's Guncrazy (1992), the Hughes brothers' second feature, Dead Presidents (1995), and Steve Buscemi's melancholy portrait of life in suburban Long Island, Trees Lounge (1996). The female gaze is evident in the sex scene between Tyrin Turner and Jada Pinkett (set to R. Kelly's "Honey Love"), where if any part of anyone's body is objectified it's the scraggly hair on Turner's chin.
Menace II Society screens tonight, January 11, at Nitehawk Prospect Park on 35mm as part of the series "Adventures in Black Cinema." The programmer Desmond Thorne delivers extended program notes on his podcast of the same name.