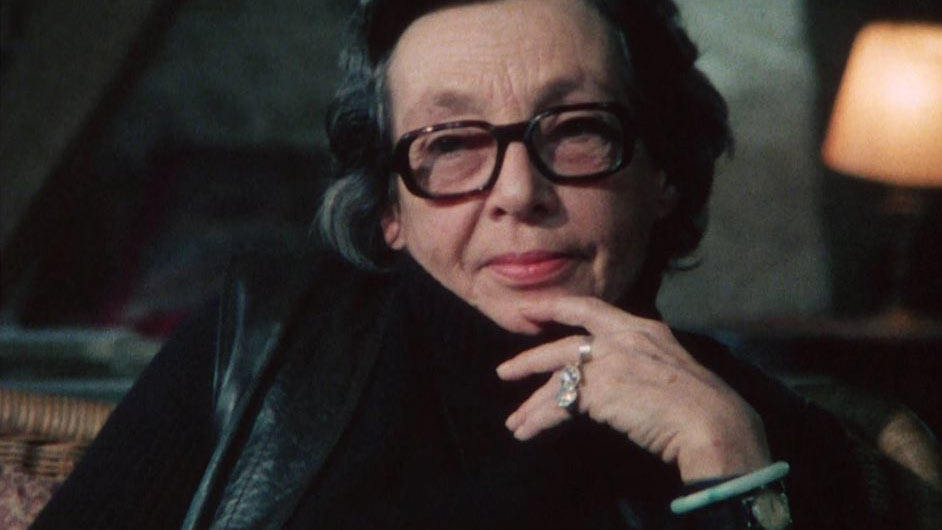 May 19th 2021
"I love Marguerite Duras," a friend said to me recently, "but at a distance." The meaning here is never clearer than when watching the writer and filmmaker in her natural habitat, ensconced in cigarette smoke and conversation, lost and aloft in her own erudition. In the recently published Duras/Godard Dialogues — a matter-of-fact record of the two filmmakers' conversations — Duras and Godard's pairing is like watching two machine guns aimed at each other from behind bulletproof glass, their words and interjections clanging, myopic shrapnel. It makes for transcendent reading when contained to the page, but you are relieved to not be in the same room as them (Godard compares listening to Duras to listening to Reagan or Qaddafi). Another Screens's "Marguerite Duras on Television'' online program, which plays on the site for free until June 1, compiles six of Duras's appearances as a correspondent for France's stylish, postmodern television program Dim Dam Dom between 1965 and 1968.
The choices of subject matter, especially a free-wheeling interview with an eight-year-old boy, at first seem eccentric, but Duras — master of raconteurial abstraction, sometimes even recalling a French John Wilson — always manages to bring the conversation to similar motifs: freedom, persona, the purpose of writing (and whether there is one). At her most confrontational, she targets France's only female prison warden (1967's Marguerite Duras à la petite Roquette) — "Is authority seductive?" she asks with a dare — and the keepers of a Parisian zoo (1966's Marguerite Duras chez les fauves), both times positioning herself squarely in the perspective of those behind bars. While her questions are often cryptic and open-ended ("What are your thoughts on monkeys?"), they are almost always imbued with the revolutionary zeal of her early journalistic writing in Le 14 juillet and the France-Observateur.
Duras approaches a 1965 interview with a stripper who goes by the name of Lolo Pigalle in much the same way that she approaches an interview with her personal friend, the actress Jeanne Moreau, that same year, asking similar questions about public and private performance and the laborious nature of their work. Moreau has just come from the set of Tony Richardson's Mademoiselle — adapted by Duras from a work by Jean Genet — and appears at the brink of exhaustion and frustration with working in film. "These machines," she says, gesturing at the cameras, "they make me want to explode. I want to do something dangerous … like Shakespeare." But in Duras' hands, even a television interview can seem intimate — even dangerous. As they consume cigarette after cigarette, Duras gnaws on the nature of Moreau's celebrity until she finally admits, "I'm surrounded by people who control me and watch me … I enjoy having a master."
"Marguerite Duras on Television" then jumps a decade into the future and turns the camera on the by-then famed and prolific filmmaker with Michelle Porte's two-part 1976 television documentary The Places of Marguerite Duras. Here Duras is not the master in control of the conversation, but instead the venerated subject, and it seems to bore her. She prefers silence and extols its virtues. In the film's best moments Duras is in her home in Neauphle-le-Château, where she filmed 1972's Nathalie Granger, and her obsession with her admittedly gorgeous, garden-filled estate evokes a surreal version of one of those celebrity Architectural Digest videos that were popular at the beginning of quarantine. "It's only women who inhabit places, not men," Duras says, listing the fictional characters with which she has inhabited every room: Lol Stein, Anne-Marie Stretter (Delphine Seyrig in India Song), Nathalie Granger. The hand-held camera slowly tracks the lengths of the house's earth-toned square footage. She speaks of entering rooms and suddenly feeling "a profusion of women" contained within them. It's a modestly spectacular moment, ripe with context for her works, such as India Song and Baxter Vera Baxter, that deal with women contained inside homes and rooms, alone with their thoughts and words.