Featured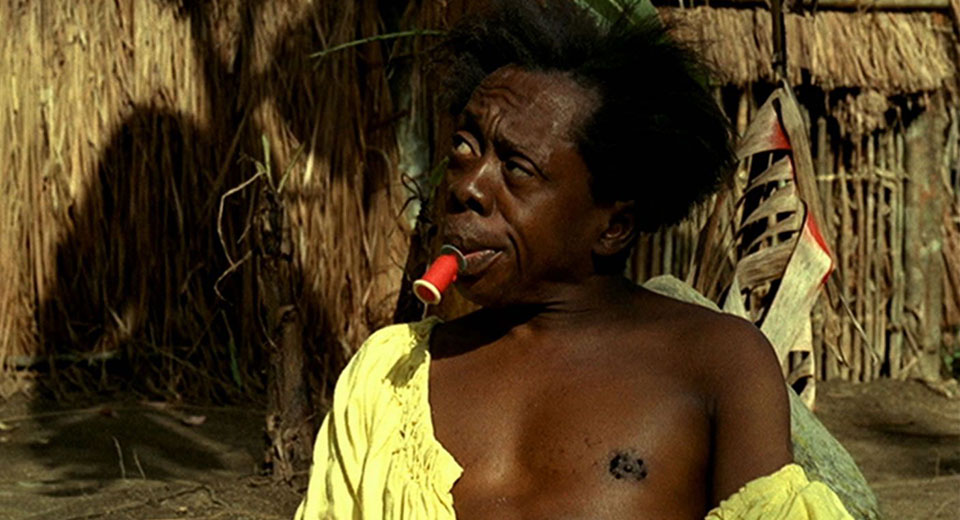 August 21st 2017
Brazilian Modernism at the turn of the 20th century categorically rejected and rebelled against frothy academicism and Eurocentrism. The aesthetic movement sought to make sense of a country grappling with three centuries of colonization, which lead to a succession of military coups, sharp postcolonial dichotomies, and heightened civic political engagement. Though many groups splintered from it, the Anthropophagic strain, conceived by Oswald de Andrade, was primarily concerned with formulating a distinct national identity created upon new expressive forms in visual art and literature that heavily borrowed from Brazilian colloquialisms, wordplay, local folklore, and mythology.
Joaquim Pedro de Andrade's Macunaíma is loosely based on one of the founding texts of the modernism movement in Brazil, a homonymous novel by Mário de Andrade (no relation to Oswald or Joaquim). Actor Milton Gonçalves described Macunaíma as "a collection of all that was left unsaid in the history of Brazil," and it contains a dizzying abundance of historical and mythological references within a farcical and unrelentingly savage satire.
The fable of Macunaíma (initially portrayed by Grande Otelo) begins with the nativity of its shapeshifting anti-hero, a fully grown black "baby" donning a canary yellow tunic, born to a cross-dressing, aging, white mother in an Amazonian village. During the first six years of his life Macunaíma does not speak. Everything is given to him, and he babbles about as a mischievous little boy who is, in a moment, literally rendered voiceless during a puerile tantrum. His idyllic tropical upbringing, backdropped by mangrove swamps and overgrown bananal trees, is cut short by a flood which forces Macunaíma and his two brothers Maanape (Rodolfo Arena) and Jiguê (Gonçalves), to move to the metropolis. On their way out, the trio encounter a gushing spring of water which, by an act of sorcery, transforms Macunaíma into a white man (now interpreted by Paulo José, who also plays Macunaíma's mother). As Jiguê dashes into the spring, it abruptly ceases, only turning the palms of his hands white. This layered and provocative visual gag, one of many, is put forth as an allegorical stand-in for Brazil's racial identity, while also playing with white savior tropes.
Once transplanted, Macunaíma is enraptured by the fast-paced mechanical guts and rapid industrialization of the city. As any coming of age fable, Macunaíma falls in love. The object of his affection is Cí (Dina Sfat), a machine-gun toting guerrilla who would make mincemeat out of Pierrot le Fou's Ferdinand Griffon and Marianne Renoir. Macunaíma's domestic, anarchic, sexual bliss with Cí and offspring is preposterously truncated by her abrupt death, blown to bits by an explosive device. His intentions shift towards recovering Cí's muraquitã, a protective talisman that landed into the hands of evil, obese Italian businessman: Wenceslao Pedro Pietra (Jardel Filho), who attempts–but fails, to cook Macunaíma in an olympic sized courtyard pool full of feijoada.
Extravagant, grotesque and outlandish, Macunaíma is the perfect summer movie in the age of 45, for one it should serve as a lesson in how to make political art without falling into trite pamphleteering. Considering its codified sardonic point of view in contempt of the 1964 coup d'etat enmeshed in hallucinogenic fantasy, and a celebration for the tall tales that run throughout the body of the film, Macunaíma triumphs in its aim of not indulging external perspectives that exoticize a nation in flux.