Featured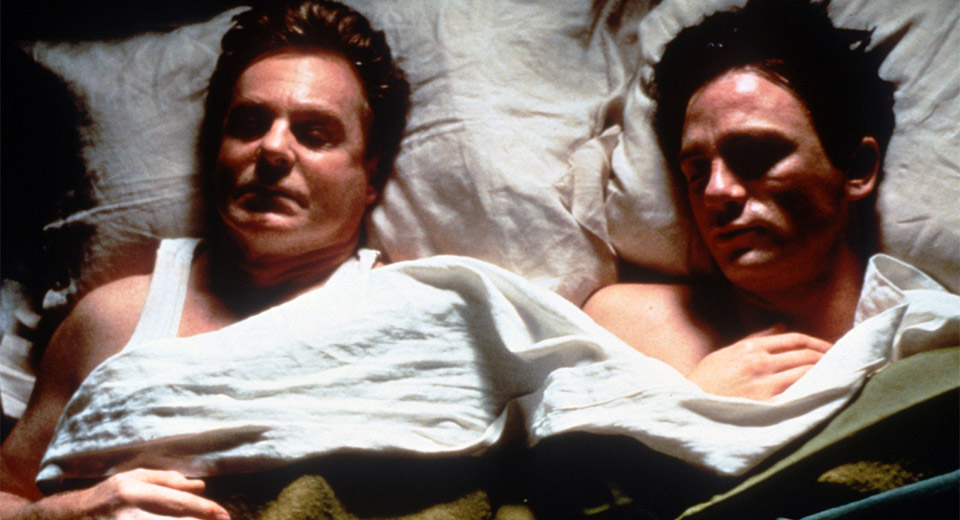 March 15th 2020
This screening is cancelled. Here's where to stream it.
Screen Slate will put its listings on hiatus next week as we adjust to the pandemic and transition to "Stream Slate" mode. We're committed to continue publishing daily and paying writers. Here's how you can support us.
With the assistance of Light Industry & other community partners, we have also started a Cinema Worker Solidarity Fund that can be accessed by cinema workers whose hours have been curtailed because of the COVID-19 closures & who are not being otherwise compensated. Please give if you can and share.
In Love is the Devil: Study for a Portrait of Francis Bacon, writer/director John Maybury returns the painter's agonized geographies of contorted flesh to the cinema, where the artist's vision was forged. The gaping mouth of a bleeding nurse in Battleship Potemkin's endlessly studied "Odessa Steps" sequence wheedled its way into Bacon's young brain and emerged onto dozens of canvases, where it was plastered across the heads of popes, nudes and hump-backed monsters. Impressively, Maybury is able to approximate Bacon's unsteady visions in the more obstinately concrete realm of moving images. His interpretations successfully writhe in a manner that, paradoxically, seems native to the literal stillness of Bacon's paintings than to the kinetic force of movies.
Derek Jacobi pickles his ever-regal presence in his portrayal of Bacon as a petty jester/king heaping champagne and abuse upon his fellow misfits at Soho's infamous Colony Room Club. George Dyer, a working class burglar played by Daniel Craig, tumbles into Bacon's life and the two pursue a mercurial entanglement for the better part of a decade. Of Dyer, Bacon demanded physical violence in the bedroom and subservience in public. Despite the artist's obvious need for him as both lover and subject, he was never permitted to forget his intellectual and social inferiority. Even after his death, Dyer was a rich subject for Bacon's grisly portraits. Craig plays him as a conflicted soul cursed by good fortune to love an artist of rare brilliance.
Maybury's elliptical, visually layered approach abandons all the twaddle that makes biopics, particularly those of artists outside the cinema, so insufferable. There are no flashbacks to formative moments of a troubled youth, no a-ha moments of inspiration yielding masterpieces in short order. Instead, Bacon's rightful reputation as a tortured genius is discussed half-heartedly by his coterie (including an unrecognizable Tilda Swinton as Colony proprietor and Bacon subject Muriel Belcher)) more often than it's depicted dramatically by Maybury's script. Much like Cronenberg's Naked Lunch, Love is the Devil transmutes the essence of one of the 20th century's greatest artists into a new medium, adapting Bacon's work for the screen while also vividly evoking the man and his obsessions.