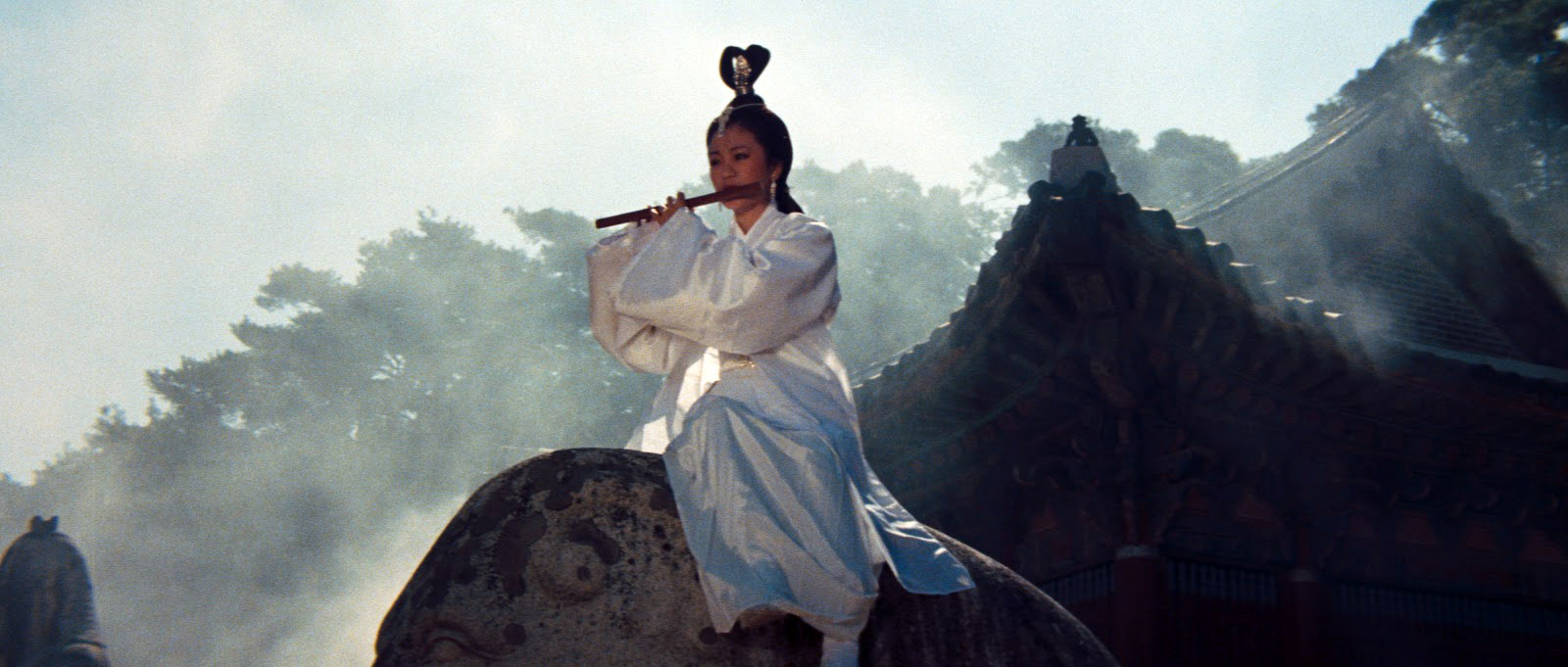 January 27th 2023
Wuxia master King Hu's Legend of the Mountain (1979) is a gentle and reflective epic that overwhelms viewers with natural beauty and mystery. Shot the same year as the director's Raining in the Mountain, the film is loosely based on Pu Songling's highly influential collection of Qing Dynasty stories, Strange Tales from a Chinese Studio. To this source material, Hu adds his flair for the sonorous majesty of Chinese opera, visual abstraction, and the soft mountain imagery of traditional Chinese painting to create an unhurried tale of magic, love, and deception.
Hu regular and Taiwanese cinema leading man Chun Shih plays Ho Qingyun, a scholar who travels to a far-off monastery in order to copy a Buddhist sutra said to have the power to free lost souls. After obtaining the text, he makes his way to an abandoned mansion for some peace and quiet, encountering strange things along the way including a suspicious Lama and a flute-playing young woman (Sylvia Chang) who disappears before his eyes. When he arrives, Qingyun meets Melody (Feng Hsu), a beautiful former concubine, who he marries after a night of excessive wine drinking. Eventually, it becomes clear that things (and people) are not as they seem and that demonic forces may be conspiring to steal the sutra. Qingyun finds himself in the middle of a supernatural conflict between unquiet spirits and a Taoist priest, setting the stage for wuxia action, comedy, and melancholy drama.
Like A Touch of Zen (1971), Legend of the Mountain sets its characters in perfect balance with their environment. Narrative action is intercut with breathtaking landscapes and detailed nature photography, bringing to the screen ineffable feelings and ideas with astounding precision. The film's pacing is slow and deliberate, with equal time given to the mountains and forests as to the plot, and this equanimous treatment of elements invites the viewer to join in its quiet contemplation of rugged paths, ancient temples, and noble vistas.
Legend of the Mountain is a rare longform work of sustained visual poetry and filmic inventiveness; one of cinema's great pleasures is to be lost for a few precious hours in its ghostly magnificence.
Legend of the Mountain screens through February 2 at Metrograph as part of the series "Folktales, Ghosts, & Parallel Realities."