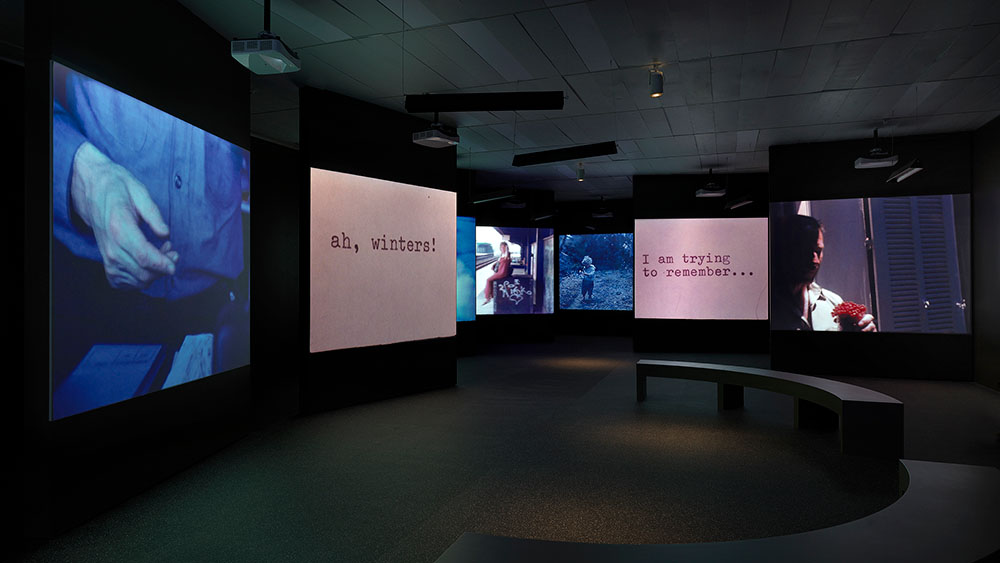 May 17th 2022
The prolific filmmaker, poet, critic, and organizer Jonas Mekas (1922–2019) has long been recognized as a towering figure in American experimental cinema. His decades-long championing of avant-garde film and filmmakers—including his co-founding in 1954 of Film Culture, the first journal of American film criticism, and his co-founding in 1970 of Anthology Film Archives—left an indelible mark on film history and the methods by which people access and understand what Mekas and his peers called "essential cinema." For the first time, a US museum exhibition is surveying Mekas's work, an experimental presentation that emphasizes what is seen and unseen, heard and unheard in the artist's oeuvre.
Jonas Mekas: The Camera Was Always Running is a broad, unconventional view of Mekas's filmography at the Jewish Museum. The exhibition features eleven career-spanning films from Mekas's first feature, and only narrative, Guns of the Trees (1962), to the last film he completed shortly before his death, Requiem (2019). Also included are diary films Walden (Diaries, Notes, and Sketches) (1969), Reminiscences of a Journey to Lithuania (1971–72), and the epic As I Was Moving Ahead Occasionally I Saw Glimpses of Beauty (2000), which compiles more than thirty years of home movies.
Mekas produced meditative, sprawling, non-narrative (but often self-narrated) films, wielding the camera as if taking furtive notes. His wry, sustained attention on even the most mundane daily sequences could attain the condition of music, honest like a diary and full of vagueness and contradiction like a dream. Beautiful and also devastating, because as Adorno told us, "to write poetry after Auschwitz is barbaric."
As a young man in Lithuania during the German occupation, Mekas wrote and published romantic poetry in newspapers that also contained hate speech meant to hasten the extermination of Lithuania's Jewish people. His politics for a free Lithuania entwined with Nazi efforts to rid the country of Soviets and Jews. Eventually, the Soviet advance prompted Jonas and his brother Adolfas to flee deeper into the Third Reich, to Vienna. This specific context is missing from most discussions of Mekas's work even as the phenomena of memory and forgetting follows the work like a sweet-smelling fog. This is poetry on the move, a poetry of displacement, but it also grapples with the political ramifications of looking and listening to blurriness and then choosing (or succumbing) to forget and smile.
Curator Kelly Taxter breaks each of the eleven films into chapters of similar duration and projects these simultaneously on adjacent screens. The twelve screens are arrayed in a broken semicircle, so that from benches in the middle of the room, all are visible in an almost continuous 180-degree field of vision. The 288-minute As I Was Moving Ahead… flashes by in a mere half hour.
The multi-screen barrage brims with polyrhythms and the flickering, frenetic pace of life, achieving a meter in the spirit of Mekas's work. One's vision can shift from screen to screen, disrupting the temporality of the film and providing an ecstatic spectacle outside of the traditional bounds of cinematic time. But this jagged hemispherical view is only part of the installation. One must move around the gallery to perceive each chapter's soundtrack, as the audio is siloed by directional speakers that spray only so far beyond each screen. In this way, sound and image are estranged, and roving viewers can create their own sonic (and visual) mix of the room.
Art museums are tricky places to stage film exhibitions, with the curatorial impulse to be exhaustive or innovative running up against the limitations of a space designed for painting and sculpture, or the expectations of an audience who in this case are visiting an institution dedicated to art and Jewish culture. Much is lost when eyes are constantly in flight, unable to rest and digest. A museum visitor only wants to sit for so long. What can they see in fifteen minutes? Even in a collaged, abstract film, feelings and meanings accumulate over time, delicately, resulting in effects that the twelve-screen installation scatters into obscurity.
When The Camera Was Always Running opened, many of the films in the exhibition plus a few more screened for one week at Film at Lincoln Center. I saw Guns of the Trees, which follows two couples as protest and war juxtapose with an urbane melange of dissatisfaction, malaise, and suicide. It is the product of an intellectual artist uprooted from Europe and landed in the middle of a hotbed of artmaking and activism in the US. Allen Ginsberg reads poetry and George Maciunas appears in the film as himself. Interspersed are scenes of charming folks in makeup and fine outfits wandering in fields and amid trees. There is a sense of calamity offset by the pastoral, and the narrator speaks through a tortured conscience: "I am a wolf going back to the woods."
At Lincoln Center, Guns of the Trees screened alongside another outlier film, The Brig (1964), which documents a performance by the Living Theatre imagining what a military prison in Japan in 1957 would look and sound like. The repetitive and degrading calls and responses and stomps and the claustrophobic filmmaking are so disturbing they made me sick. This film does not appear in the museum exhibition, but a recent "In Response:" event organized by the museum and the Columbia MFA program brought elements of The Brig into the building for one night. On the basement level, in the former Russ & Daughters Café shuttered by the pandemic, the artist Sophie Kovel amplified The Brig's looped audio to resound across the empty booths and wiped clean appetizing surfaces. Mekas's camerawork was gone, but the haunting soundtrack remained as a requiem.
Not held captive or barred from entry, visitors could wander into and out of the basement, into and out of the Mekas exhibition upstairs, out to the street, into the park, onto a moonlit rock in the din of the twilight city.
Jonas Mekas: The Camera Was Always Running is on view through June 5 at the Jewish Museum. From November 1968 to December 1970, Mekas's Film-Makers' Cinematheque presented avant-garde film programming on Tuesdays at the Jewish Museum. Tonight, May 17, and on Tuesday, May 31, Anthology Film Archives screens selections from these programs.