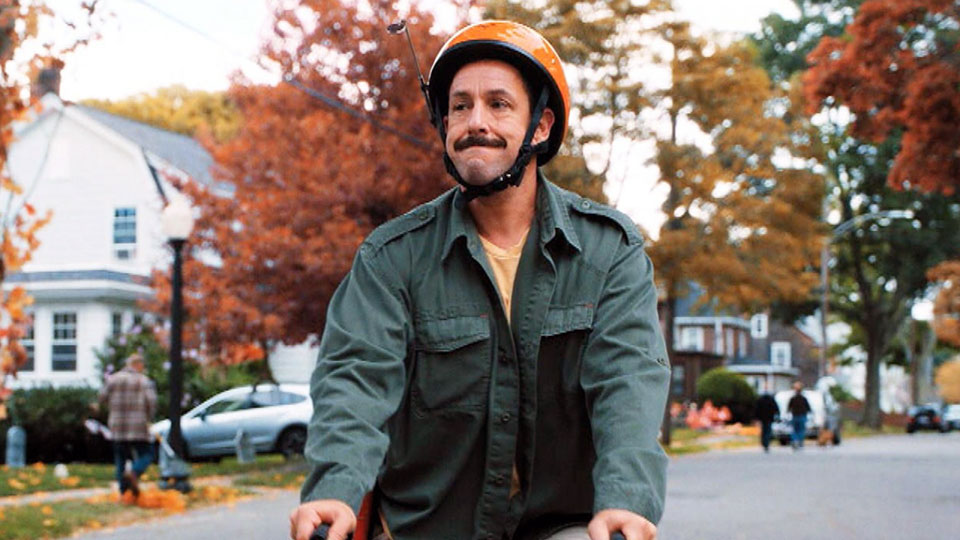 October 18th 2020
To paraphrase Foucault's cute dismissal of Marxism, Hubie Halloween is a fish and autumn 2020 its water. It's unlikely to echo in any meaningful way other than as an inverse nostalgia for the year without Halloween. But it's a warm bath of seasonal vibes with enough big laughs and amiable faces to justify its running time. As an experience, it's uniquely suited to a moment where feature films often reside alongside Twitch streams, longform articles and soup recipes in a proliferating array of Chrome tabs. As easy to ignore as it is to dive into body and soul, Hubie Halloween is a narrative cinema approximation of Brian Eno's Music for Airports.
Adam Sandler's marble-mouthed idiot this go-round is Hubie Dubois, a skittish mama's boy who nonetheless loves Halloween with every atom of his virginal lifeforce. His voice, a make-or-break detail for any Sandler comedy, is Bill Murray's Groundskeeper, Johnny Depp's Hunter S. Thompson, and a retread of Sandler's own Waterboy. It can require subtitles, which again suits contemporary home viewing habits. When he's not manning a deli counter, he's relentlessly scanning his hometown of Salem, MA, for potential dangers amid the Halloween festivities. But when a patient escapes the state asylum and Hubie's bullies start disappearing, only Hubie the innocent takes the threat seriously.
For every inspired, lite surrealist bit — like the increasingly bizarre objects bullies lob at Hubie as he rides his bike around town — there are mullet jokes so tired you can get lost rationalizing them away as anticomedy. You can contrast the endeavor's laziness positively against the life-threatening pretenses of Christopher Nolan's Tenet. This is backyard cinema on the studio dime, a charming hang released during a calendar year that became for most an endless, terrifying digital hang.
Sandler's Salem is a 21st-century Rockwellian utopia in which even bullying feels wholesome. As usual, Sandler is both the bully and the bullied, relentlessly encouraging audiences to mock his character's eccentricities while celebrating his spotless innocence. The performances occasionally parody Hallmark sentimentality while the script relies on those same melodramatics to phone in a message about goodness, the hallmark of every Happy Madison movie released after the two actually great ones, Billy Madison and Happy Gilmore. Emblematic of the film's laziness is that it doesn't recognize the contradiction. Laziness is crucial to the hang. It's no insult to say that Hubie Halloween is best enjoyed in sweatpants you've been wearing since yesterday.
The racial diversity resembles a college brochure, whereas the real Salem is as white as the rest of Massachusetts. Much of the comedy is rooted in a series of sexual transgressions tied to race, age or ability. What if old women felt horny? (Never forget that the Sandman introduced the rapping granny in The Wedding Singer.) What if a sultry-voiced radio DJ was actually a big Black guy married to a mannish woman? What if Black people farmed? What if the homecoming queen was pathologically thirsty for an autistic NEET? Your mileage may vary on how harmless these reversals are. Things also get a little queasy surrounding Hubie's unsanctioned street patrols. He's George Zimmerman and Kyle Rittenhouse untainted by ideology and gunworship — his weapon is a thermos full of gadgets — in another utopian vision too thin to withstand scrutiny.
Sandler's brand of parasocial cinema, in which most audiences are acutely aware that he's convinced a studio to subsidize a group vacation, resembles our lived experiences of friend groups and extended families. (Most of the children in the film are the sons and daughters of the cast.) Consequently, not all figures are equally likable: Steve Buscemi works wonders as a spacy wolfman, while Kevin James is incapable of being funny. George Wallace pops up for two nothing scenes and wrings chuckles out of thin air. No one loves all their friends equally, but loyalty and charity toward loved ones are the most Sandlerian virtues.