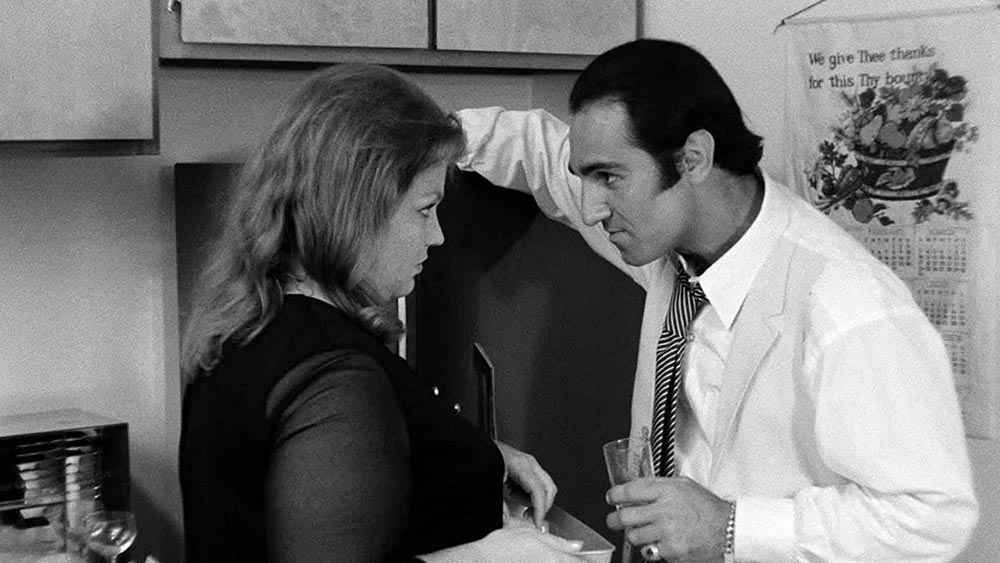 August 23rd 2023
Lifting from the string of real-life murders committed by the "Lonely Hearts Killers," Raymond Fernandez and Martha Beck, in the late 1940s, Leonard Kastle's The Honeymoon Killers (1970) plays like an unvarnished American folk tale, capsuling New Hollywood preoccupations through sticky, illicit romances and Mahler excerpts. Cited as François Truffaut's favorite American film, The Honeymoon Killers phases in an unsexy aesthetic of grayscale realism by way of voyeurism, not far removed from the likes of John Waters's Cavalcade of Perversion, Multiple Maniacs, released the same year.
The killer couple meets through personal ads, with the fast-talking, seductive Ray (Tony Lo Bianco) essaying his usual romance scam, and Martha (Shirley Stoler), a lonely nurse, falling quickly and completely for him. Martha, who soaks her time in romantic novellas and films, has developed an unhealthy, convoluted perception of love. So, even once she discovers her penpal beau's unromantic intentions, she opts to fold herself into Ray's scheme, acting as his sister to legitimize his identity and put the spinsters he'd target at ease.
Martha carts her nosy mother off to a retirement home in order to state-hop with Ray, following a trail of women whom he'd romance and persuade to marry him for cash—and never, ever bed, lest Martha become outraged and violent. (In reality, Beck had two illegitimate children whom she abandoned at the Salvation Army in order to prioritize Fernandez, which he regarded as an act of complete devotion; this is bitten off the plot of The Honeymoon Killers, and Martha instead threatens suicide for Ray's attention.)
What begins as a straightforward scam—hustling and abandoning desperate women—haphazardly escalates into a string of murdered ladies with emptied pockets. Stoler and Lo Bianco are so believably green-eyed and passionate here, conjuring a potent pall of unease long before the film shifts into the slasher genre. The brutality that found The Honeymoon Killers at odds with national censor boards might today seem lukewarm, but the practical effects remain meticulous and grisly; for one: dye and glycerine–filled condoms affixed to actors' heads, pierced by a pin at the end of a hammer to give the illusion of a bludgeoning head wound.
A youthful Martin Scorsese, fresh off of his debut feature Who's That Knocking At My Door? (1967), was the director for the production's first week ("The problem with him was that everything took very long," said Kastle when reflecting on the film); then came Donald Volkman for two more weeks, eventually replaced by Kastle—who was hired originally as a researcher, then as sole screenwriter—for the final four. The film itself was a kind of crime scene: directors left their fingerprints and fled, a motley of techniques embossed into the final product.
The Honeymoon Killers screens tonight, August 23, at Nitehawk Williamsburg on 35mm as part of the series "Love on the Run."