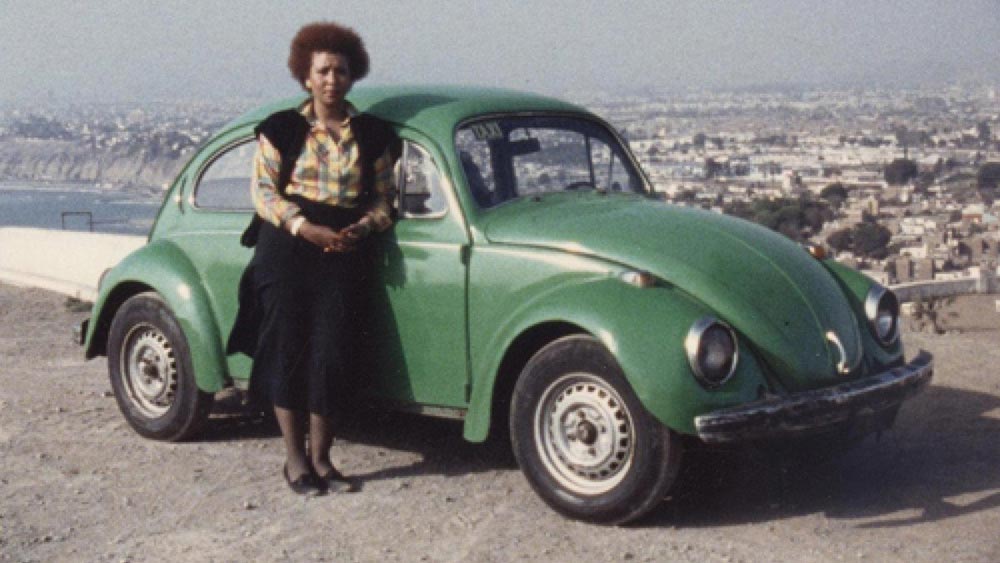 December 7th 2022
Heddy Honigmann, who passed away earlier this year, was a relentless and prolific director, working at a rate of nearly one film per year from 1978 onward. Of the five documentary films programmed as part of Spectacle's Honigmann mini-retrospective, all are defined by conceptual boundaries, which then spill apart and spiral out in unpredictable directions. In these films, her peripatetic gaze follows interviewees from their taxis, storefronts, street corners, and cemetery benches back into their homes and to second jobs, or into concert recitals and on a pilgrimage to a Jean-Auguste-Dominique Ingres painting in the Louvre.
The roving, man-on-street/portrait-of-a-city school of nonfiction filmmaking is a slippery and precarious art. Oft-practiced but rarely perfected, it can sometimes feel primarily like a documentation of the mechanics of shallow conversation. The humanism required for this form feels almost alchemical. Heddy Honigmann—in these films speaking at various times in French, English, Spanish, and Portuguese—is the rare practitioner whose conversations you feel honored to be listening in on. In these exchanges, sometimes she pushes back, often she laughs along, and it's clear she usually spends substantial time with her subjects. She also readily allows herself to be ignorant, to not know—and crucially, to be heard not-knowing.
In Metal and Melancholy (1992), Honigmann, the child of two Holocaust refugees who fled to Peru in the 1940s, returns to her childhood home of Lima. In the midst of an inflationary economic crisis, many middle-class Peruvians—actors, government officials, hospital administrators—also moonlight as cab drivers, using their own vehicles to make ends meet. We get economic and political lessons; we hear about past loves lost, children in the hospital, and inventive, jerry-rigged anti-theft solutions. It is a repeated feature of her conversations that, no matter what the ostensible topic, they often land in a shared song or poem as a way of better capturing the texture of a feeling or memory.
O Amor Natural (1996) takes as its jumping-off point the work of Carlos Drummond de Andrade, one of Brazil's most famous poets. (In the early 1990s, his verses were even featured on Brazilian currency.) Honigmann grabs a volume of his erotic, oftentimes sexually explicit, poems—published only after his death according to his strict instruction—and asks elderly residents of Rio de Janeiro to read and reflect upon them. Most of her conversation partners delight in the task, drifting off into reminiscences of spontaneous daytime sex on a rocky seaside and glorious, frantic fucking on a kitchen floor. A group of white-haired men in a barbershop read a pun-laden elegy to the ass, and a 90-something-year-old commercial TV actress describes the effects of patriarchal sexual repression. It's both a sexy communal portrait and a revealing look into the intimate memories of an aged population—although it is frustrating that her subjects, and the poems, appear to be limited to hetero sex (or at least, no one says otherwise outright).
Forever (2009) finds Honigmann in the Père-Lachaise cemetery in Paris, speaking to those paying tribute to deceased artists such as Chopin, Sadegh Hedayat, and Maria Callas, as well as family members and friends visiting their loved ones. In The Underground Orchestra (1999), she delves into the lives and backgrounds of the immigrant street musicians based in the Paris subway. Even when based explicitly in economic and political conversations—such as in Oblivion (2008), a devastating portrait of the failed presidential regimes and extreme inequality in Peru—the conversations always wind their way around to love, art, and loss. Her wit can be scathing, playful, or conspiratorial; Oblivion is worth seeing for an incredible, laugh-out-loud sightgag on a ceremonial presidential sash alone, but it cares equally for the tears of an elderly tailor.
Rarely do the people being spoken to feel "symbolic," or included for subtextual reasons.
Her films don't feel like they are setting out to make a point; they revel in the loss of control and give into their own searching. Originally trained as a poet, Honigmann explains her turn toward filmmaking: "Sometimes [in poetry] you are really two days looking for the word, but I was more interested in the image the poem was leaving after, the total image."
"Heddy Honigmann (1951–2022)" runs through December 19 at Spectacle Theater.