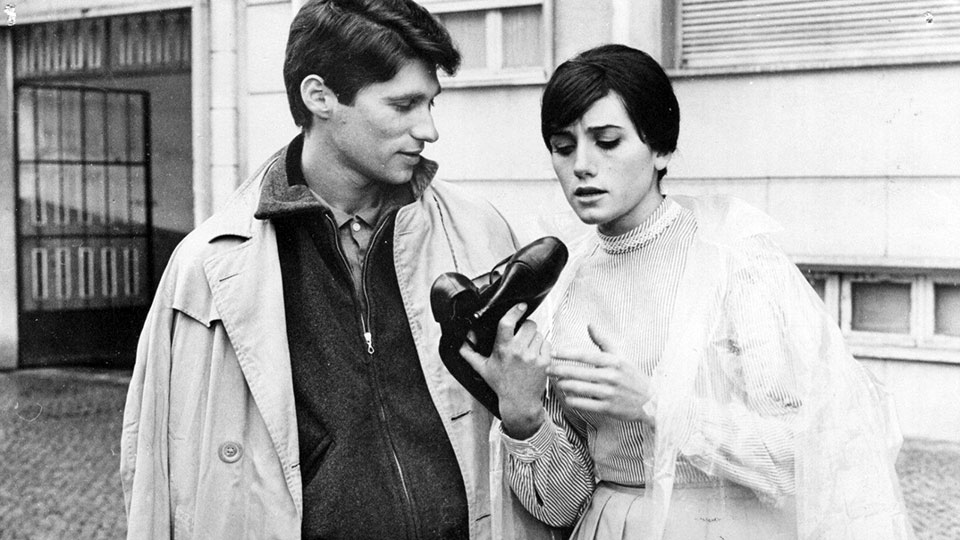 August 7th 2020
A country himbo's existential crisis and eventual undoing is the poetic stuff of Paulo Rocha's The Green Years (1963), now streaming via Film at Lincoln Center in a new restoration by Pedro Costa released through Grasshopper Films. Lured by a job in his uncle's shoemaking workshop, lissom 19-year-old Julio leaves the countryside to seek his fortune in Lisbon. Doe-eyed and naive, he is quickly suckerpunched by cosmopolitan life and it's myriad disparities: between rich and poor, old and young, modern and bygone. When a meet-cute with Ilda, a wealthy family's young maid, blossoms into first love, Julio's ambivalence lifts like a fog — before mutating into spiritual decay.
Uncle Alfonso's world-weary point-of-view narrates the unraveling of Julio and Ilda's doomed love affair from a chilly remove. "When you become a man," Alfonso warns his charge, "it's a different kind of romance." The garrulous bachelor and businessman has little patience for a young man in love. His life is comfortable, if not modest: in addition to his aforementioned cobbler shop, Alfonso counts among his many riches a humble adobe house on the outskirts of town. Years in the capital have smoothed his angst and ambition: his vision of success is a ball game and a few good beers, far from the towering modern residences that sprung up like fungi in the years following World War II.
For Ilda, who works in one of Lisbon's many new luxury flats, the accelerating development around her is a source of excitement and longing. When Madam is away, she gleefully rifles through her employer's extensive wardrobe, modeling the pricey pumps for Julio in an elaborate mating ritual. As her appetite for finery expands, the provincial mannerisms of her beau begin to feel woefully old-fashioned. The static between her bodily desire for comfort and Julio's boyish longing soon proves too powerful, opening a rift between the pair beyond the point of reconciliation.

The Green Years is available to rent through Film at Lincoln Center's "virtual cinema"