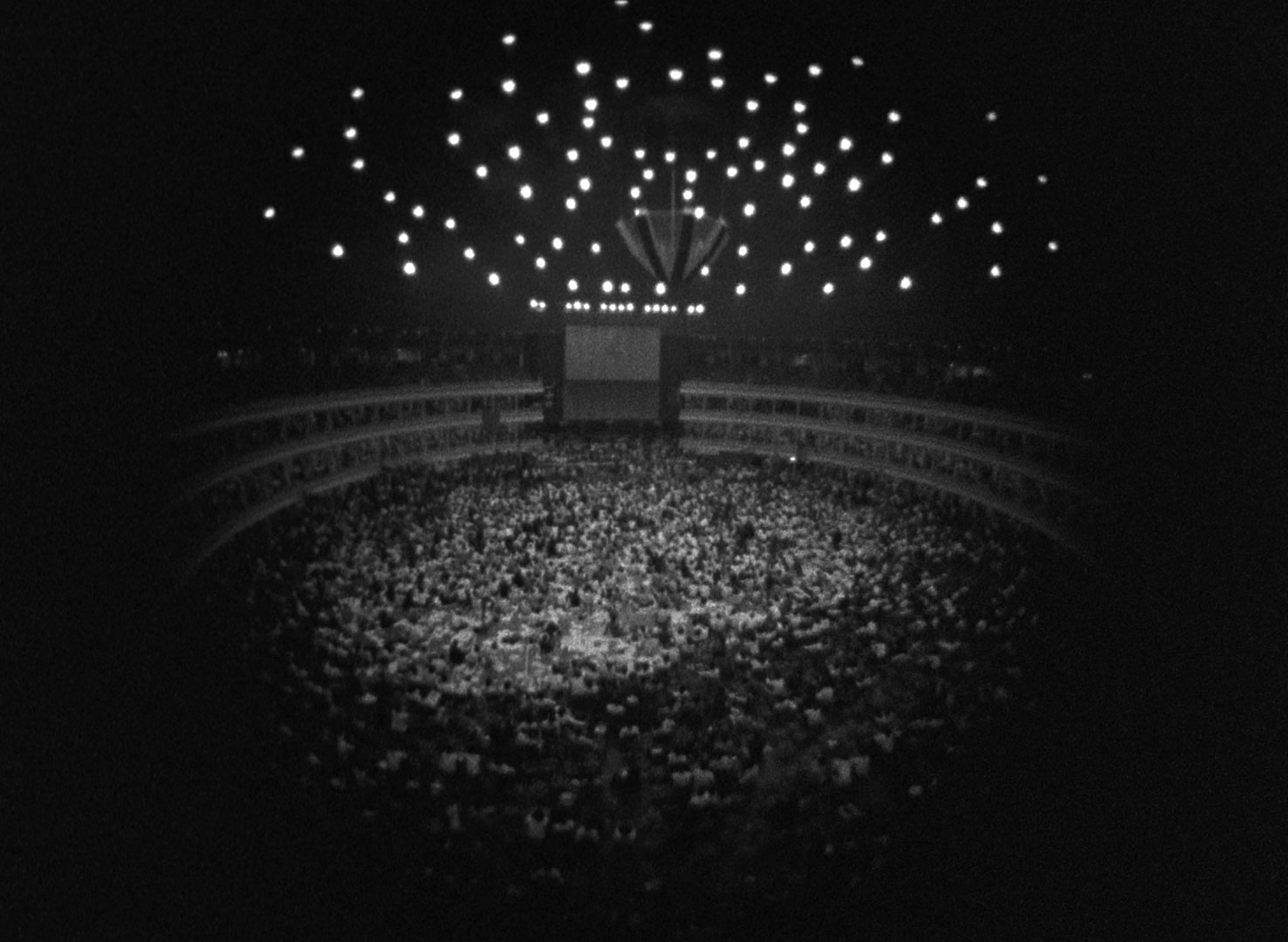 November 19th 2020
Gewaltpia: Motoharu Jonouchi and the Japanese Avant-Garde
Featuring a discussion with Masao Adachi
Co-presented by Collaborative Cataloging Japan
Organized and Programmed by Go Hirasawa
Thursday, November 19 at 8:00 PM EST
Watch at twitch.tv/screenslate, no login or admission required
Presented in partnership with Pioneer Works, where "More Than Cinema: Motoharu Jonouchi and Keiichi Tanaami" is on view through November 22.
About the program
Avant-garde filmmaker Motoharu Jonouchi, who founded Nihon University Film Study Club (Nichidai Eiken) and VAN Film Science Research Center (VAN), began his Gewaltpia series around the new student movement that emerged in Japan around 1968, focusing on the Nihon University struggle. "Gewaltpia" is a word coined from gewalt, the German word for "violence," and utopia. This series of works began with "Nihon University Hakusan Street" (1968), which documented the first demonstration that took place in front of the Nihon University in May, 1968. It continued with "The Mass Collective Bargaining at Nihon University" (1968), then documenting barricades while making the political pink film, Sex Game that were being shot by Masao Adachi "At the Auditorium of Nihon University College of Art" (1968), to "Gewaltopia Trailer" (1969), which connected his own work and horror/genre cinema with protests at Tokyo University and Nihon University.
In this online program, we welcome filmmaker Masao Adachi as a guest speaker, who has long collaborated with Jonouchi at Nichidai Eiken and VAN. The discussion will be moderated by programmer Go Hirasawa.
For further reading, "Moment When a Singularity is Born: Essay on Motoharu Jonouchi" by Go Hirasawa is available on CCJ's website. Jonouchi's works Shelter Plan and Document 6.15 are currently on view in the exhibition "More Than Cinema: Motoharu Jonouchi and Keiichi Tanaami" at Pioneer Work through November 22. Jonouchi's writing is included in the recently published book, Japanese Expanded Cinema and Intermedia: Critical Texts of the 1960s (2020, Archive Books, Berlin).
Screening line-up
Nihon University Hakusan Street, 1968, Silent, BW, 9min
The Mass Collective Bargaining at Nihon University, 1968, Silent, BW, 21min
At the Auditorium of Nihon University College of Art, 1968, Silent, BW, 6min
Gewaltpia Trailer, 1969, BW, 16mm, 13min
Runtime: 49 min
About the filmmaker
Motoharu Jonouchi (1935–1986) was actively involved in the establishment of Nichidai Eiken and co-directed The Record of N (1959), Pu Pu (1960). Subsequently, Jounouchi established VAN with Kan Kanbara and Masao Adachi as a space to live and work together, and while interacting with avant-garde artists of different genres, created works such as Document 6.15 (1961), LSD document (1961), Shelter Plan (1964), WOLS (1964-1969) and Gewaltpia series (1968-1974).
About the speaker
As a student, Masao Adachi (1939, Japan) joined Nichidai Eiken and co-directed "Bowl" (1960) and "Closed Vagina" (1963). After co-establishing VAN, he joined Wakamatsu Production, where he collaborated with Koji Wakamatsu on many underground classic political "pink films," such as The Embryo Hunts in Secret (1966), Violated Angels (1967), Go, Go Second Time Virgin (1969) and Female Student Guerilla (1969, as director). At the same time, he independently produced Galaxy (1967) and AKA:Serial Killer (1969), the latter of which is a seminal avant-garde landscape film, while continuing to collaborate with former members of Nichidai Eiken. After co-directing Red Army/PFLP: Declaration of World War (1971) with Wakamatsu, Adachi joined the Japanese Red Army and relocated to Lebanon for 20 years. In 2007 he returned to filmmaking with Prisoner/Terrorist, based in part on his own experiences with arrest and incarceration, and soon after was the subject of work by filmmakers such as Eric Baudelaire and Philippe Grandrieux. His most recent work is a loose feature adaptation of Kafka's A Hunger Artist set in modern day Japan.
About the programmer
Go Hirasawa is a researcher at Meiji-Gakuin University working on underground and experimental films and avant-garde art movements in 1960s and '70s Japan. His publications include Godard (Tokyo, 2002), Fassbinder (Tokyo, 2005), Cultural Theories: 1968 (Tokyo, 2010), Koji Wakamatsu: Cinéaste de la Révolte (Paris, 2010), and Masao Adachi: Le bus de la révolution passera bientot près de chez toi (Paris, 2012). He has organized more than fifty film exhibitions throughout the world, including Underground Film Archives (Tokyo, 2001), Nagisa Oshima (Seoul Art Cinema, 2010), Koji Wakamatsu and Masao Adachi (Cinematheque Française, 2010), Theatre Scorpio: Japanese Independent and Experimental Cinema of the 1960s (Close-Up: London, 2011), and Art Theater Guild and Japanese Underground Cinema, 1960–1986 (The Museum of Modern Art, New York, 2012).
Collaborative Cataloging Japan (CCJ)
Collaborative Cataloging Japan (CCJ) is a 501(c)3 not-for-profit organization that provides archival and media preservation support to institutional and private collections of Japanese experimental moving image works produced from 1950s through 1980s, with the goals of documentation, preservation, and opening access internationally to these materials. CCJ aims to expand the repertoire of what is understood as Japanese experimental moving image today, and strive to stretch and complicate the audiences' understanding of Japanese culture. For more information, please visit: http://www.collabjapan.org/
Stills (c) Mineko Jonouchi. Special thanks to Mineko Jonouchi, S.I.G. Inc and Adachi-gumi.