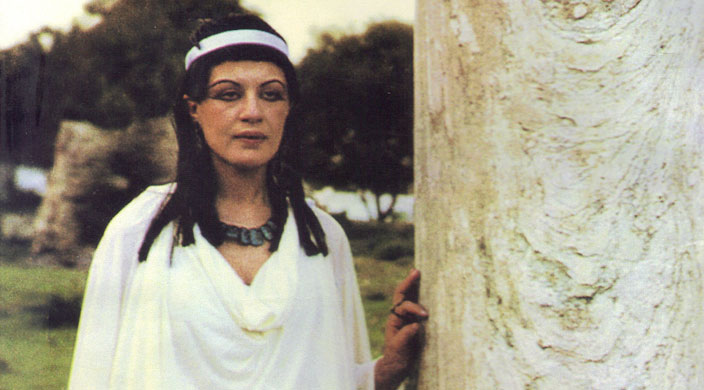 October 22nd 2020
Selma Baccar's 1976 essay film Fatma 75 begins with a woman walking in to focus. She introduces herself as Sophonisba, an ancient Carthaginian noblewoman who, rather than submit to Roman humiliation, poisoned herself around 203 BC. From here, the film makes several stops throughout history, and we see the same actor fashioned as Jalajil, an odalisque (chambermaid of the lowest social strata within a sultan's harem), and then reclining as 17th century Tunisian princess, Aziza Othmana. Baccar's camera eventually lands in the present, and her actor is now Fatma, a Tunisian university student. The young woman introduces herself, briefly describes her background, and turns to enter the school behind her. Here the film's opening credits roll, but in the preceding few minutes, something monumental has occurred. Baccar's film has placed a slew of historical women on a continuum, and then collapsed their struggles and identities into the figure of her protagonist, Fatma.
Part of "Liberating History: Arab Feminisms and Mediated Pasts", a streaming series presented by the Block Museum and programmed by Simran Bhalla and Malia Haines-Stewart, Fatma 75, the first non-fiction film by a Tunisian woman, is a formally nimble explication of the parallel struggles for Tunisian independence in the 1950s and women's rights. Fatma is scheduled to deliver a talk on the subject to her class. Using this narrative device — a sort of unrestricted cinematic mentation — the film utilizes several modes of investigation and expression, including interviews, cinema verite-style documentation, and fictionalized vignettes depicting domestic life. The result is a richly textured, thematically and historically coherent film, that provides both context and inspiration.
The first half of Baccar's film details the emergence of women as an important force in the Tunisian struggle for independence, focusing on the feminist writings of Tahar Haddad, the independence moment under Habib Bourguiba, and the the birth of the Union of Muslim Women. In the film's second half, we see a cross section of images of women's lives from contemporary Tunisia: domestic scenes, women at work in factories (still paid less than men), discussions about sexual reproduction in the classroom, and women visiting a healthcare facility. The frankness of the scenes will perhaps be surprising to western eyes, but ultimately, Baccar's film is highlighting something else. By celebrating the achievements of women in the independence movement — their invaluable and necessary participation — Baccar's call to complete the unfinished work of equality for women in the then present, becomes clear.
Shown in a new digital restoration produced by Africa in Motion, Fatma 75 is available to stream for 24 hours beginning at 7pm CT Thursday. The initial screening will be followed by a live discussion with Florence Martin, a scholar of Maghrebi women's cinema.