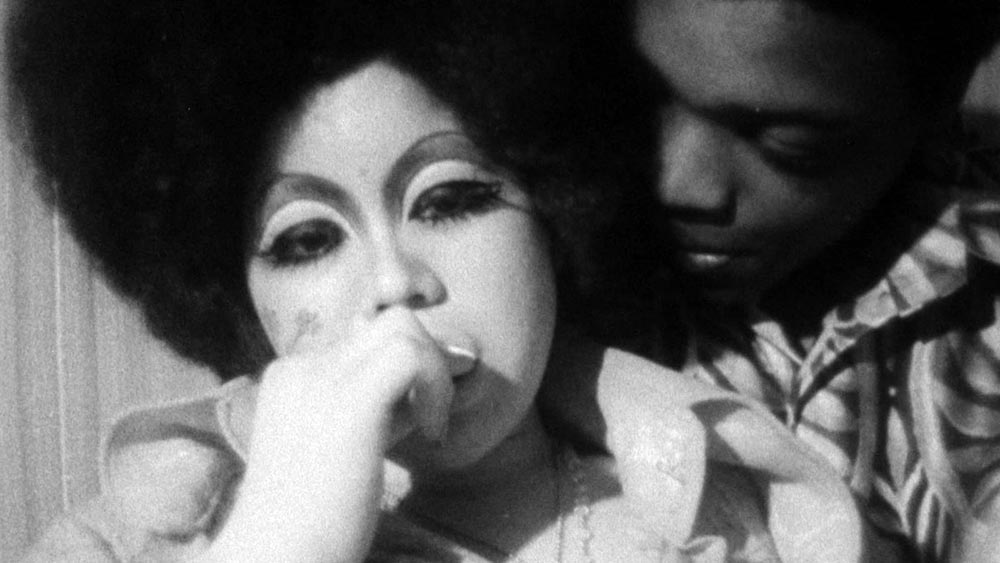 August 16th 2023
Filmed in bursts of deeply personal interactions, Kazuo Hara's Extreme Private Eros: Love Song 1974 (1974) focuses on an individual—a woman brooking the tides of self-determination—whose passions and efforts to change their circumstances make for compelling subject matter. The same is true of his previous film, Sayonara CP (1972), and the two that followed, The Emperor's Naked Army Marches On (1987) and A Dedicated Life (1994). As Hara shared in a 2022 interview, his feeling at the time was that "people who were just living their own little lives were no good," and only those who resisted power and actively worked toward change were effective documentary material. In turning to a woman whose life was deeply intertwined with his own—Miyuki Takeda, Hara's former partner and the mother of his child—the director demonstrates that "people with a very strong energy" and those who are merely "ordinary" are often one and the same.
As Hara narrates over a selection of still photographs of Takeda, their romantic relationship has ended. She's moved to Okinawa with their son, and he claims to be making this film in order to maintain a relationship with her: "I rolled a camera because .‌ . . I wanted to see her." The first section captures an argument between Takeda and her new partner, Sugako; Sugako is mostly silent, though her body language speaks volumes as she refuses to face or interact with the camera. Hara's presence is clearly contributing to the discord between the women, though the editing and the explicit emotion in Takeda's comments position the filmmaker as only an observer. The personal stakes of the film are thus hidden behind the apparent impassivity of the camera.
On Hara's second trip to Okinawa, Takeda is now living with Paul, a Black American soldier, whose womanizing ways and unknowability induce an angst in Takeda absent from the "acceptance" she'd found with Hara. "Life is pointless without confronting fear," she explains. Hara lurks around the edges of the film, occasionally interjecting a question or a short narrated quip, but at this moment he appears briefly on screen, running his hands through his hair, crying noisily. The self-satisfaction in the following intertitle—"Her relationship with Paul lasted three weeks"—is driven home as Hara again returns to Okinawa, this time accompanied by Sachiko Kobayashi, his then and current wife and filmmaking partner. Takeda grows increasingly irritated and put-off by the confrontation with her ex-husband's new partner, and his choice to include their meeting in the film reads as retribution.
The gamesmanship and romantic battles emerging through and between these sequences begin to fall away as Takeda appears to abandon monogamy entirely, joining a series of communes whose membership is composed of women and children. The film climaxes with the real-time, out-of-focus birth of Takeda's second child, completed without help in Hara's apartment as their son watches and Kobayashi holds the microphone. The radical self-reliance, lack of shame, and casual offering up of this act is undeniably awe-inducing. Even as she obsesses over the "mixed" identity of her child, names favorites, crows over her abilities—generally behaves like a grubby, "ordinary" human being—Takeda emerges seen, perhaps reluctantly, as self-determining and, in some small ways, transcendent.
Taken within the context of his oeuvre, Hara's probing of his former lover's attempts to build a life separate from his own appears to present another portrait of a strong individual fighting hegemonic power. Yet all the less-flattering moments—her failed efforts at pamphleteering, her petty jealousies, her shifting political commitments—bring her down to an earth populated by the weak (a weeping, vindictive Hara included), whose mere persistence might be considered radical. In the same interview quoted above, Hara explains the centrality of his mother to his filmmaking practice: "She was somebody who lived at the very bottom layer of society, raised me, and passed away. That gives me a very strong feeling of comradery with her. And this is the feeling I always have in the core of my heart when I make films." Extreme Private Eros serves as a moving portrait of a mother, as fearless as she is fallible. Inevitably, the camera "sees" very little of Takeda; the mystery that imbues her most childish behaviors, as well as her most remarkable, is as poignant as that of the more blatantly political subjects of Hara's later films.
Extreme Private Eros: Love Song 1974 screens tonight, August 16, at Anthology Film Archives as part of their Kazuo Hara retrospective.