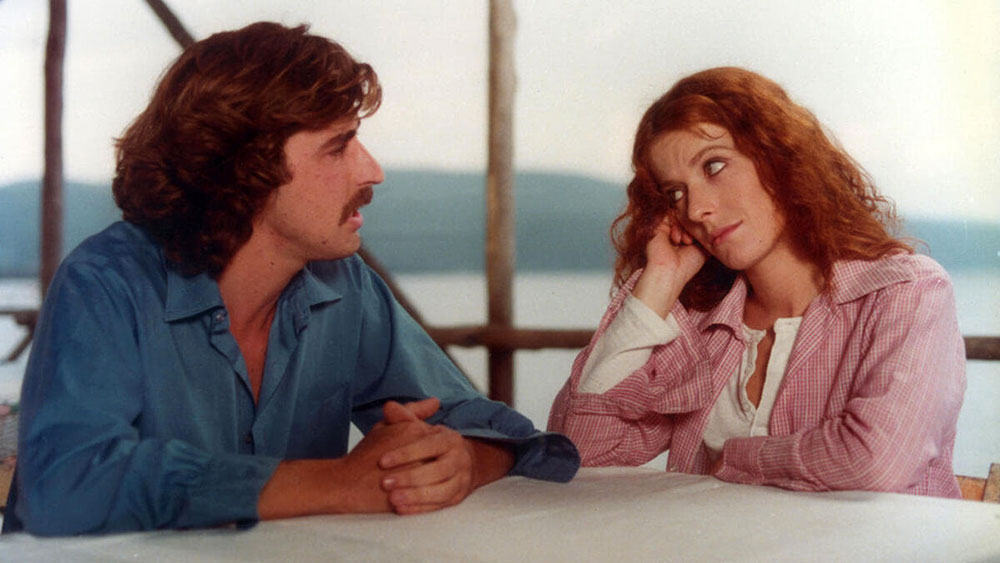 June 27th 2021
Nanni Moretti's debut, I Am Self Sufficient (1976), and his 1978 cult film Ecce Bombo, which revolves around the recreational and political activities of a group of friends in Rome, are both centered narrowly on Moretti's peers: urban, left-wing students who benefited from the achievements of the '68 movement without really participating in it and who would, decades later, be held responsible for inadvertently facilitating Silvio Berlusconi's ascent. Unable to find a representation of itself in mainstream culture, this generation was key for Ecce Bombo's box office success (made for $730,000, it grossed more than eight million).
Moretti's films of the '70s and '80s anticipated a millennial sensibility, his characters' temperaments strangely close to the tongue-in-cheek, disillusioned, and obsessively self-aware attitude of those who came of age with the internet. A character named Cristina tells Ecce Bombo's protagonist Michele Apicella (a recurring character in Moretti's early films, played by the director himself), "I do things, I meet people," leading Michele to struggle to understand how she makes a living without a proper job. Elsewhere, Michele delivers another statement of his generation: "Should I come [to the party] or not? Will they notice me more if I come and keep to myself, or if I don't come at all?" His FOMO, his neuroses, his feeling of the impossibility of any meaningful connection — all axiomatic personality traits of millennials — are Ecce Bombo's essence and find hilarious expression in a further pivotal scene: one night the protagonists decide to leave the city and see the sunrise on the beach in Ostia, a seaside town within Rome's metropolitan area. (As the site of Pier Paolo Pasolini's murder, Ostia is a historic location for Italian cinema.) Waking up the next morning, they realize that the sun has risen behind their shoulders. They had been facing the wrong direction all along.
Moretti established his career by blending his political concerns with an emotional narrative core. Starting in the late '80s, Moretti founded a production and distribution company, Sacherfilm, as well as a cinema in Rome, Nuovo Cinema Sacher, both named after his favorite chocolate cake. As he gained reverence in France (in 2012 he was asked to serve as jury president for the Cannes Film Festival), his entrepreneurial endeavors within the Italian film industry took on an almost militant tenor: he circulated films otherwise met with hostility by mainstream distributors, most famously Edgar Reitz's Heimat and Abbas Kiarostami's Close-Up.
In the '90s Moretti replaced Michele Apicella with another alter ego, this one guilelessly named "Nanni Moretti." In the first episode of Caro Diario, conceived as three journal entries, we see Moretti driving around a deserted summertime Rome on his Vespa. Just like the other chapters, which follow his travels across the Eolian islands and on a medical quest leading to his cancer diagnosis, this space suspended in time allows Moretti to render personal and sociological obsessions as tangible apparitions. His love for music and dancing informs a hilarious cameo by Jennifer Beals, while his anxiety about incommunicability is embodied in a memorable sequence where children hijack adults' conversations on the phone. Caro Diario also see's Moretti's transition from one prevailing mood to its opposite: if earlier films explored the humor of meaninglessness within concrete expressions of cultural identity, his later works look at the tragic side of the same coin. For example, The Son's Room (2001) and Mia Madre (2015) deal with the director's relationship with death. In the interval between these two efforts, Moretti's extra-filmic engagement with the political sphere culminated in 2002 with the so-called "slap to the left," a frustrated speech against a moderate political class unable "to speak to the mind, the soul, and the heart of the people," and in the movement of the "girotondi," human circles formed around public buildings in support of democracy. Although welcomed by Moretti's fans, both actions were broadly dismissed as radical chic.
Much more than Moretti's real-world interventions in the political arena, his films proved to be deeply intelligent in creating durable and relatable forms of dissent. His filmmaking, committed to looking at society as a whole, took a step further in the aughts, when in two instances it proved to be almost prophetic. While Il Caimano (2006) anticipated the fall of Berlusconi in 2011, the psychological struggles of Michel Piccoli's character in We Have a Pope (2011) predicted Pope Benedict XVI's abdication in 2013. Il Caimano captures the late career of a B-movie producer as he struggles through his divorce and the making of a comeback film about Berlusconi. The producer's last chance to save the debt-ridden company is to complete the film, which also happens to be the directorial debut of a young, unknown lesbian filmmaker. I remember seeing Il Caimano when it came out and finding it disappointingly conciliatory, as it seems to satisfy the desires of those adults I would later learn to disdainfully call boomers. But recently, upon rewatching it, I encountered instead a bittersweet document of aging, a testament to the persistence of a pragmatic and uncompromising idea of cinema that transcends its Italian specificity. Today, at 67, Nanni Moretti can look back at a career that defies generational and genre labels and that, by virtue of its sensibility about the future, might finally reach a younger and international audience — one that will find itself uncannily close to the characters and themes that populated his early works.
Ecce Bombo is streaming on MUBI.