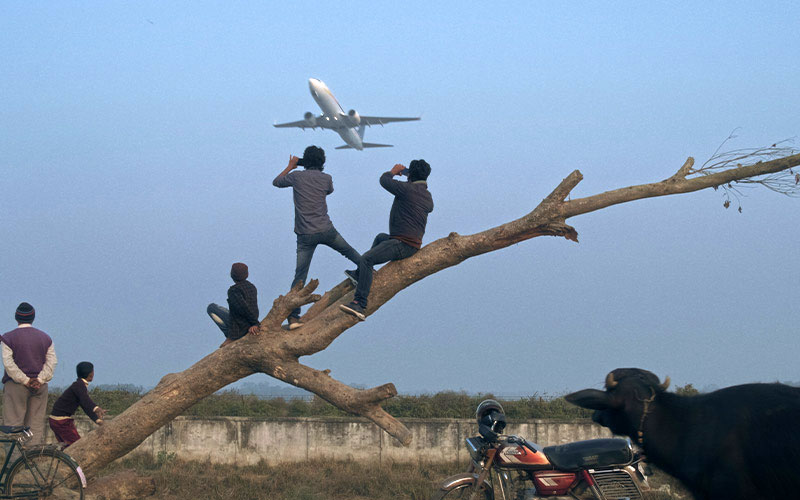 September 16th 2022
Indian filmmaker Achal Mishra lived in Darbhanga until he was ten, later studied in London, and now divides his time between Mumbai and his hometown. For his nostalgic debut feature, Gamak Ghar (The Village House, 2019), he turned to his childhood memories of carefree vacations spent with his extended family at their ancestral home in Darbhanga. Mishra's sophomore feature, Dhuin (2022), sees him returning to his hometown, but the milieu this time is different and doesn't inherit his personal space. In Gamak, the filmmaker ruminates on losing connection with one's roots and the longing to reforge it. Dhuin takes up the antithesis: capturing the ennui of Darbhanga's youth who are restless to migrate from it.
While Gamak spanned two decades, Dhuin chronicles two days in the life of its protagonist, Pankaj (Abhinav Jha), a theater actor with dreams of making it big in Mumbai's film industry. But faced with obligations to his family, as his father lost his railway job during the pandemic, Pankaj is forced to weigh his dreams and make a choice. Unlike in Gamak, where the disintegration was external and conspicuous—the decaying house and the withering of familial bonds—here, the protagonist's inner world comes crumbling down in a manner so implicit that Mishra conceals any trace of impact.
To forge intimacy with the characters and lend palpability to their mental state, cinematographer Anand Bansal framed them in a 4:3 aspect ratio. Mishra and Bansal had previously used the same for the first segment of Gamak, in which they sought to evoke nostalgia and warmth. Within a taut runtime of 50 minutes, Mishra packs his film densely with symbolism to convey the predicament of his protagonist. In a scene close to the Darbhanga airport, Pankaj climbs on top of a withered tree to get a closer view of the airplanes flying above him, illuminating the bitter truth of his dreams being beyond the grasp of his reality. Despite living next to a railway station, surrounded by the hustle and bustle of plying trains, the train journey to Mumbai that he wishes to undertake eludes him. In the most telling moment of Dhuin, a driving-school car goes around in circles, revealing not only the symbolic fog that Pankaj finds himself encircled by but also the implicit meaning of the film's title—mist, in the Maithili language of Darbhanga.
Dhuin screens tonight, September 16, and on October 7, at the Museum of Modern Art as part of the series "Making Waves: A New Generation of Indian Independent Filmmakers."