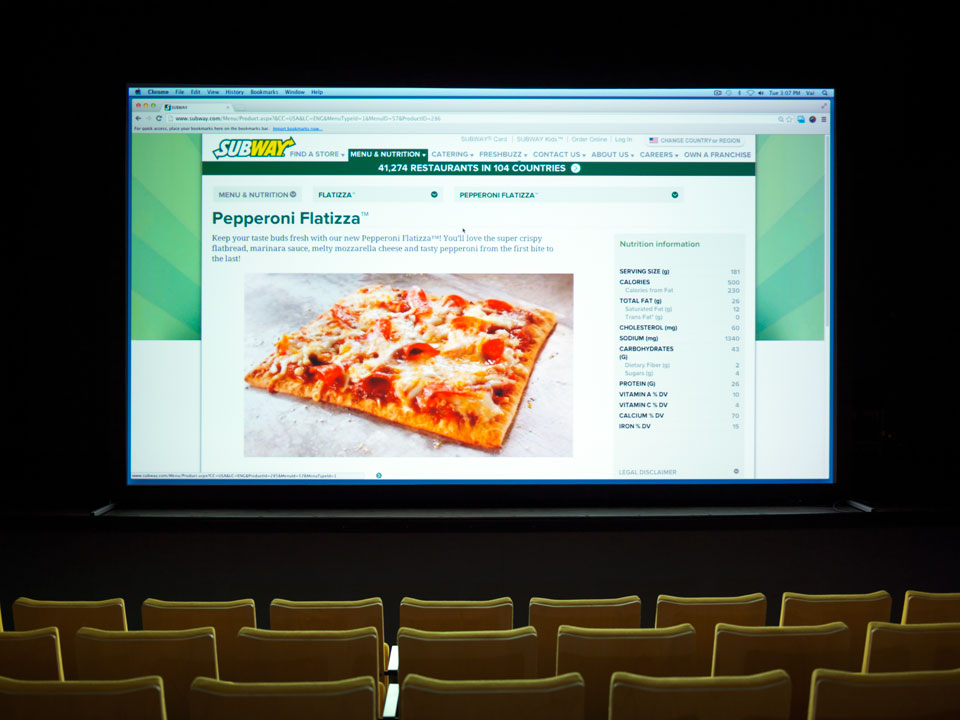 July 28th 2020
Thursday, August 6 at 4PM EST (Note earlier time)
Artist in live discussion/Q&A with Ed Halter, intro by Rhizome's Michael Connor
Co-presented by Rhizome
Watch at twitch.tv/screenslate
Screen Slate is partnering with Rhizome to present Cory Arcangel's indelible 2013/2014 surf of the Subway sandwich company's website: Freshbuzz (www.subway.com).
One in a series of screen-recorded surfs of banal corporate websites — the others being Dunkin' Donuts, OfficeMax, and Starbucks — this mesmerizing, extraordinarily deep exploration of subway.com and its rich interactive assets maps the glut of brand narrative, customer sales-pitch, and even business opportunity which comprise the identity of an "All-American" brand. By exploring the Subway brand's multifaceted digital presence at a particular moment — and notably just before omnipresent spokesperson Jared Fogle's 2015 sex crimes convictions  — Freshbuzz both engages concepts of digital archiving, as well as brands' attempts to erase their histories.
This co-presentation follows Rhizome's screening of Arcangel's So shines a good deed in a weary world (dunkindonuts.com) as part of "The Art Happens Here: Net Art's Archival Poetics" at the New Museum in 2018, and Arcangel's inclusion in Net Art Anthology. This same video was also shown in Screen Slate's 2016 series "The Medium is the Massacre" at Anthology Film Archives in a double feature with desktop horror film Unfriended.
The screening will be introduced by Michael Connor, Rhizome Artistic Director, and be followed by a Q&A with the artist, moderated by Ed Halter, film programmer, critic, and cofounder of Light Industry.
Following the broadcast, the stream will be freely available to view on the Screen Slate Twitch channel for one week. Subsequently it will be accessible along with other past Stream Slate programs with artists including Cecelia Condit, Ken Jacobs, Ellie Ga, Frank Heath, Simon Liu, and Laboratorio Experimental de Cine for our Patreon members.