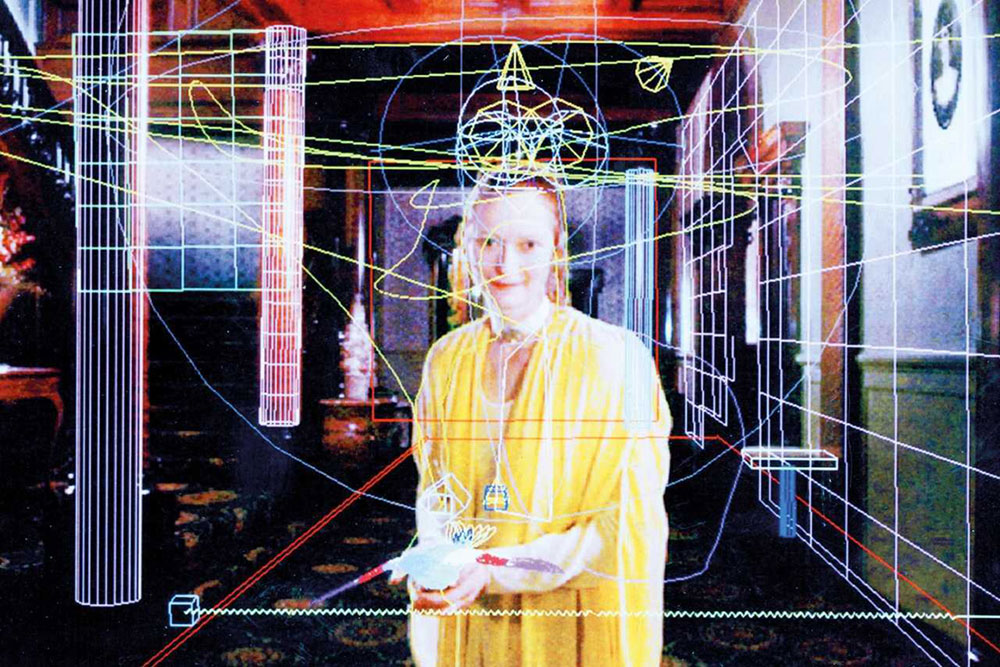 August 18th 2021
The word "prescient" has doggedly followed video artist Lynn Hershman Leeson in headlines and exhibition catalogues for the fifty years in which she's been active. Her material interests have always been in the use of the latest video and electronic technology in an almost rudimentary way—collaging and hacking together new file formats and tools (DV cameras, GIFs, Flash animation, AVID Media Composer) before there are industrialized roadmaps for their use. But her thematic concerns often lie in the past, in how technological advances can serve as a keeper of memories and even, very literally in 1997's Conceiving Ada, a portal to another time.
In an early shot of Conceiving Ada, the camera slowly pulls out from the actress Francesca Faridany—playing a computer programmer proxy of the artist—draped over the railing of her bed, framed by the lacy curtains of its canopy, as she clicks repeatedly on a clunky PC mouse held in her hand. It's Leeson encapsulated in a single slow zoom: obsessively searching for ways that computing can render a classical portrait of feminine intimacy. This collision of new and old extends to Leeson's creative partnership with Tilda Swinton, here playing mathematician and programmer Ada Lovelace in front of JPEG Victorian backdrops, whose face always seems unstuck in time, regardless of the era that she is inhabiting.
To the chagrin of her baby-hungry husband, Faridany squirrels herself away, beholden to her various computery pursuits, including digitizing their German shepherd into a foreboding, squeaky-voiced avatar that she calls "God Dog." Despite the warnings of her husband, doctor, ailing mentor (played by a very out-of-sorts Timothy Leary), and God Dog, she obsessively concocts a way to view Lovelace's memories and personal history through a sort of search engine—for example, typing "Ada origin" pulls forth a woozy, spectral scene of Lovelace's conception (with Lady Byron portrayed by cult actress Karen Black, another Leeson favorite). Parallel storylines focusing on Lovelace's addictions and love of gambling emerge, but the film is at its best when Leeson is projecting her own insecurities onto Faridany's character—motherhood, authorship, independence—who is in turn projecting them onto Lovelace.
"My art is the elegant embroidering of calculations" exclaims Lovelace, in a mission statement for new media artists like Leeson in centuries to come. Just as in her proto-blog "Electronic Diaries" series (currently on view at the New Museum in a retrospective of Leeson's work), Leeson's feature films are an attempt to find the rawest personal impulses in a sea of 1s and 0s.
Conceiving Ada, along with Leeson's feature films Teknolust and Strange Culture, also starring Swinton, are currently streaming on the Criterion channel.