Featured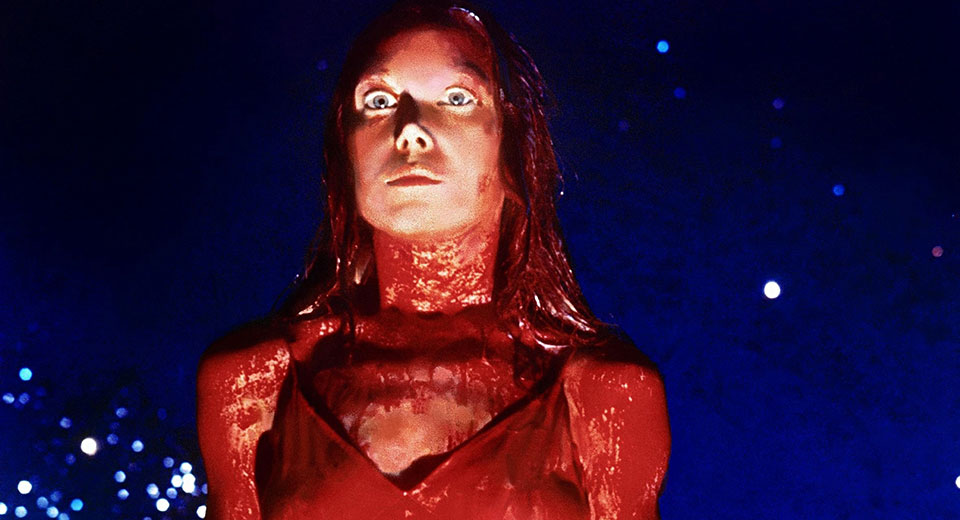 October 16th 2017
Seeing Carrie projected in a theater seven years ago was revelatory, as if I was watching it for the first time. Growing up, I had long known the film as a staple of my hometown video store and often showing up on television late at night. Its presence was unavoidable over the years through its endless parodies and three inferior remakes. The Carrie I witnessed on the big screen was something transcendent. Arising from the ashes of a 30ft wide projector screen, here was a coming-of-age tragedy bathed in glowing 35mm hues and drenched in pig's blood red. After walking out of the theater, it was clear that this film could only be seen in its proper scope to understand the impact it had upon its 1976 release — a massive critical and box office hit to the surprise of its skeptical distributor United Artists.
In Carrie, the growing pains experienced in high school are enlarged to grandiose proportions by way of Brian De Palma's trademark baroque vision. De Palma perhaps said it best in this interview that the film "has a very adolescent reality and it's very true to it." Unlike Stephen King's original novel, which is written in epistolary form from multiple character perspectives, De Palma's adaptation is primarily seen through the eyes of a bullied teenager. This is a hell-on-earth that only Carrie White (Sissy Spacek) could envision — a horror that is not derived from cheap thrills but rather the resonant portrayal of abuse that many are unfortunate to suffer through.
Limited to her confined household and high school, the small world Carrie inhabits often appears larger than it really is — a heightened version of reality. Her classmates, teachers, and zealotous mother (Piper Laurie) fall into the archetypal camps of good and evil, light and dark, all fighting for the fate of Carrie White. Religion becomes a goliath symbol of her oppression, always looming over the narrative through the lunatic ravings of Laurie and the terrifying Christian iconography decorating her home. Rights-of-passage turn into the fantastic: the onset of womanhood's first period brings with it the powerful psychic ability of telekinesis, and an ethereal prom dance with Tommy Ross (William Katt) "lifts" Carrie into the stratosphere (thanks to Jack Fisk's production design of dreamlike stars and planets draping Carrie's school gymnasium). With the final touch of Pino Donaggio's orchestral score, the film elevates the mundanity of high school to that of myth.
Though Carrie's plotline has become common knowledge to most filmgoers, the intense highs and lows created by its vivid production will forever make its fiery climax at the senior prom devastating time and time again. Playing today and Friday in Metrograph's Written By Stephen King series, this is a spectacle not to be missed. As Carrie herself puts it, "It's like being on Mars."