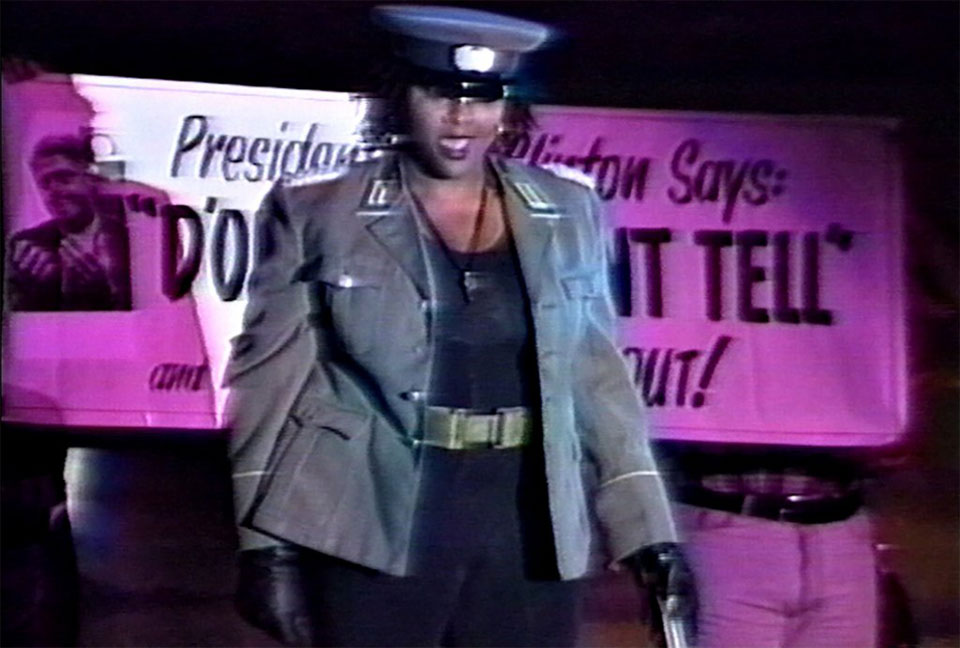 October 16th 2020
In a recent must-read conversation between video artist Michelle Handelman and Jane Ursula Harris in BOMB Magazine, Handdlman details the "culture wars" fallout of the 1995 release of her San Francisco leather scene documentary BloodSisters: Leather, Dykes and Sadomasochism. The National Endowment for the Arts was under attack in Rebuplican-led hearings in 1997, and the American Family Association, intent on proving the NEA's perverted sway on the country, cut together a reel of films distributed by New York non-profit distributor Women Make Movies (which received NEA funding, although the production of BloodSisters did not) into a collage of choice nudity from lesbian directors, sending a small shockwave through the Congressional doldrums. Twenty-five years later, as BloodSisters streams courtesy of the 32nd annual Newfest, New York's LGBTQ+ film and media festival, the ground that BloodSister's broke still feels fresh.
"We upset people on so many theoretical levels that our presence in the women's movement was really intolerable," writer Patrick Califia says early in the film, his expression matter-of-fact. For a movement that viewed sadomasochism as internalized patriarchal impulse, "lesbian sadomasochism threw a money wrench into that simplistic theory of...what a world where women could be free looked like." This candid internal critique, so potently voiced by Califia and the other subjects, is the film's most interesting tension. "They're more interested in convoluted theories…" Tova Sewall, another of the eight subjects interviewed, concurrs. "I'm sorry, but when I look to my life and what will make me happy, I've got to look to my pleasure."
BloodSisters covers an inordinate amount of ground for its slim runtime — tasked with providing a brief outline to the vernacular and decorum of S&M, performer Skeeter eventually sighs and sputters, "there should be a school. It's confusing." Handelman also tails her subjects to the April 1993 March on Washington for Lesbian, Gay, and Bi Equal Rights and Liberation, with a detour into unpacking their excitement over the historic size of the gathering and their peevishness that President Clinton could not be bothered to make an appearance. Handelman provides tender glimpses of irreverent community by depicting San Francisco's International Ms. Leather pageant, as well as public demonstrations of festish gear during New York Pride.
The images that were repurposed by the American Family Association's pearl-clutchers were most likely scenes Handdlman borrowed from a whole other film — shots of bondage play from Georgia B. Wright's film Stellium in Capricorn are overlaid and cross-faded among the interviews, jittery monochrome-tinted extreme closeups cut to staccato industrial percussion. The images have a dominating and intoxicating effect, recalling the work of Venezuelan filmmaker Maria Beatty, Cleo Übelmann's Mano Destra (1986), and Monika Truet's Seduction: The Cruel Woman (1985). The performative iconography of these scenes is in sharp dialogue with the vulnerable honesty of the interviews, resulting in a powerful time capsule of a community and both its private and political implications.