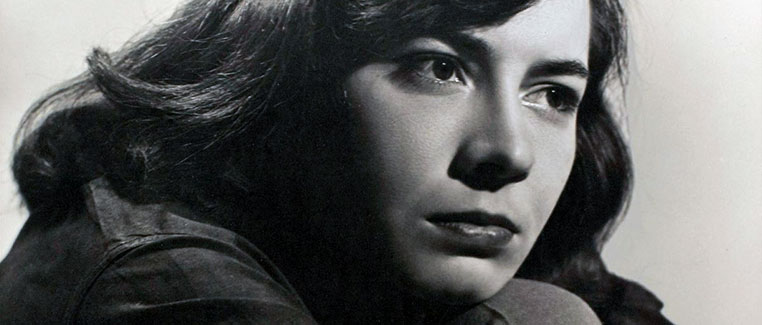 January 19th 2017
"Movies in America destroy that fine, seldom even perceived sense of importance and dignity of one's own life." This is how Patricia Highsmith—rumored to have sold more script rights than any other writer—related to the Hollywood dream machine, an industry that benefited her career despite often provoking her ire by distorting her plots and characters. It also exploited her financially; Alfred Hitchcock famously managed to buy the rights to her first novel, Strangers on a Train, for a mere $6,800 by phoning Highsmith's agent with a false name so she wouldn't know whom the offer was coming from.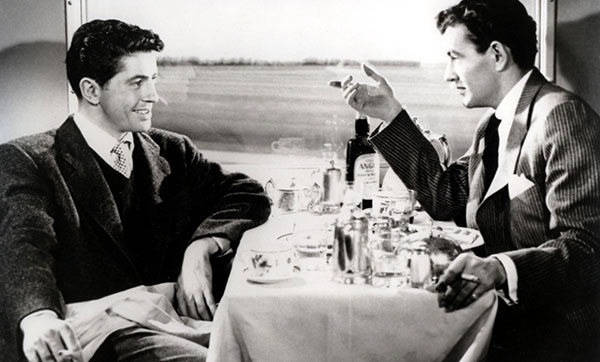 Farley Granger and Robert Walker in Strangers on a Train (1951)
The earliest entry in Metrograph's Highsmith adaptations series, Strangers on a Train also holds the most canonical place in film history. Raymond Chandler (a notoriously hard drinker, like Highsmith) adapted the novel with great difficulty, saying the plot drove him "crazy." As a result, the plot is very different: Guy Haines (Farley Granger, unbeknownst to Highsmith a fellow clandestine homosexual) is no longer an architect but a tennis player with political aspirations, his ball-and-chain wife (Laura Elliott) has been transplanted from Texas to the fictional Northeast town of Metcalf, his blue-blooded lover (Ruth Roman) is not a senator's daughter in DC but a New York socialite, and his Dostoyevskyan double (Robert Walker) is renamed from Charles Bruno to Bruno Antony. Nine years later her best-known novel, The Talented Mister Ripley, would undergo an equally drastic metamorphosis at the hands of René Clement. Tom Ripley (a much-too-handsome Alain Delon) kills his boy-crush Dickie Greenleaf (Maurice Ronet)—renamed Philippe—impulsively with a knife, not deliberately with an oar. The Greenleaf family is from San Francisco, no longer from New York, and the film skips the stateside scenes, lamentably evading Highsmith's portrait of early 1950s New York with its surprising geography (Ripley lives in a shitty hovel on bohemian East 51st Street between 2nd and 3rd and dreams of a fashionable Upper East Side address). The 1999 Anthony Minghella adaptation–starring an adequately nebbishy Matt Damon, a millennial hipster Jude Law, and a shrill Gwyneth Paltrow–restores Ripley's slovenly living conditions (although he seems to have been moved to the Meatpacking District) and is generally much more faithful to Highsmith, although differences abound here too. Most strikingly, Ripley's triangle (quadrangle?) drama with Cate Blanchett and Jack Davenport is a completely new addition, and the young Greenleaf's abiding obsession is now jazz, not painting (Ripley rigorously trains himself to distinguish Count Basie from Duke Ellington, Dizzy Gillespie from Chet Baker, Sonny Rollins from Charlie Parker). The name of Dickie's boat goes from Pipistrello to Marge to Bird, and the blunt object with which Ripley kills the abrasive American Freddy Miles (a repulsive Philip Seymour Hoffman) has gone from an ashtray to a jade Buddha to a plaster bust.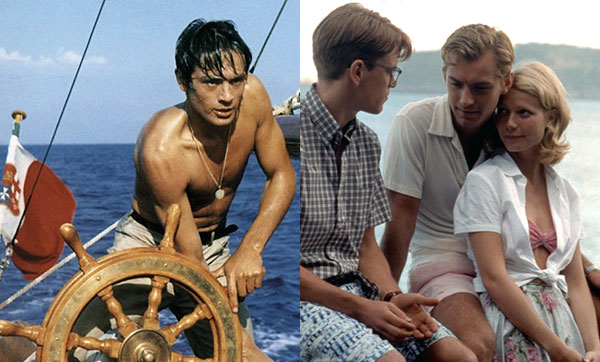 Alain Delon in Purple Noon (1960) and Matt Damon, Jude Law, and Gwyneth Paltrow in The Talented Mr. Ripley (1999)
Changes in minor details are a matter for trivia night, but the the more subtle major ones get at the heart of the difficulty of adaptation. In all film versions, Ripley comes off as much more impulsive, his actions more poorly thought out and left to chance. This is due to the absence of Ripley's inner monologue; we don't have access to his thoughts and thus his plan remains obscure. But the main themes remain consistent, among them the fear of class-inferiority. Ripley only ascends above his plebeian origin through deceit, and hangs there by a hair. The drastic measures he takes to protect his position stem from the brutal every-man-for-himself mentality that American class society imposes on us, telling us to pull ourselves up by our bootstraps and to eat or be eaten. The strata in which he starts moving—industrialists, heiresses, and the jet set—regard money with an aristocratic disdain (Cate Blanchett tells him she only feels "comfortable with other people who have it and despise it"), while Ripley never loses sight of its importance. The drawing-room setting of the later Ripley novels is thus deceptive; his desperate defense of his hard-earned gains makes them class struggle novels.
The debate over whether or not Highsmith is a suspense writer remains open, and each adaptation weighs in on it. Nino Rota 's brisk mandolins in Purple Noon , for example, undermine the suspense element, whereas Jürgen Knieper 's spiccato strings in Wim Wenders 's The American Friend are pure Bernard Herrmann. Henri Decaë's cinematography in Purple Noon has also been criticized for being too "lush" and "Mediterranean" for a film noir (whether or not it's a film noir is another matter). "Suspense writers, present and future: Remember you are in good company," Highsmith wrote, listing Dostoyevsky, Wilkie Collins, Henry James, and Edgar Allan Poe as her high-literary predecessors. James's The Ambassadors was a direct influence on The Talented Mister Ripley, as was—more surprisingly—Alexis de Tocqueville's Democracy in America, which Highsmith was reading for research on what was to be her "Great American Novel" that wouldn't even take place in America.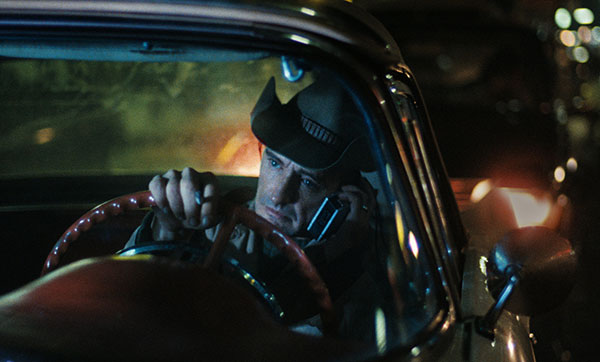 Dennis Hopper in The American Friend (1977)
Because of Highsmith's own international background, her novels are as cosmopolitan as their adaptations. Besides the United States, she lived in France, England, and Switzerland, and the films in Metrograph's series are by French, British, American, and German directors. Clement downplays Ripley and Greenleaf's Americanness (not least by having them speak French) while Minghella emphasizes it with brash jazz numbers, but it's Wenders who elevates America into a fetish; Ripley as played by Dennis Hopper (casting that initially horrified Highsmith) is embellished with a cowboy hat, a Thunderbird convertible, and a far-from-refined midwestern accent.
Still, many of Highsmith's most successful stories take place in New York and its suburbs, like her third novel, The Blunderer (adapted by Claude Autant-Lara in 1963, then again last year as A Kind of Murder ), and her pseudonymously penned The Price of Salt , which West Village theater manager Terese Hayden screen-treated as early as 1952, gender-bending the Carol character into Carl and renaming it Winter Journey . No film version materialized until Todd Haynes 's Carol (2015), with a seductive Cate Blanchett in her second Highsmith role. As pointed out in Metrograph's program notes, Carol introduced Highsmith to a whole new generation. There are millennials totally unaware of the classic Highsmith thrillers (except perhaps, by title, Strangers on a Train) but hip to the scandalous novel with its precociously frank depiction of a lesbian love affair. And who better but Todd Haynes—whose Far From Heaven (2002) spotlighted the cruel "conversion therapy" that gay men could be subjected to in the 1950s—to bring this story of a companionship condemned by the guardians of morality to the big screen?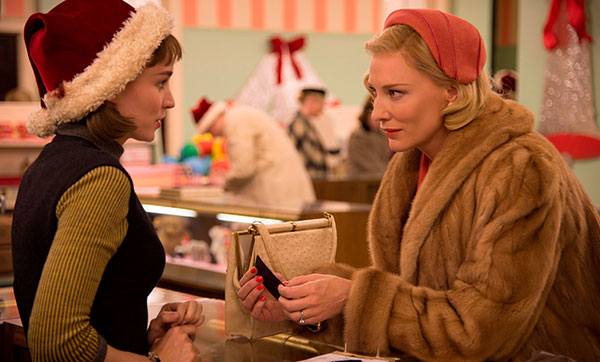 Rooney Mara and Cate Blanchett in Carol (2015)
Other Highsmith films not included in the series are This Sweet Sickness (1977) starring Gerard Depardieu, Edith's Diary (1983) starring Angela Winkler (and called "vulgar" by Highsmith), Liliana Cavani's Ripley's Game (2002) with John Malkovich as Ripley, and the Viggo Mortensen/Kirsten Dunst vehicle The Two Faces of January (2014). Let's hope the abundance of adaptations will prod the good people at Metrograph to put together a Part Two in the future.