Featured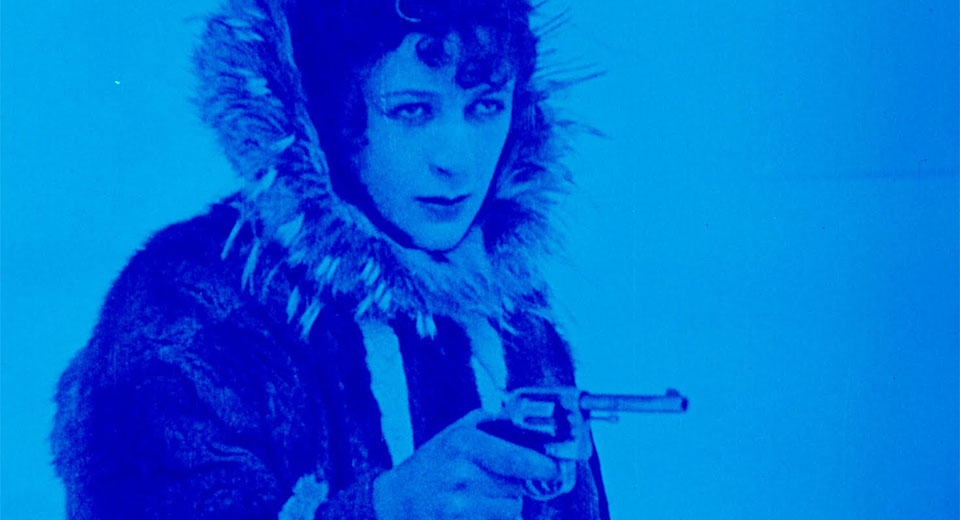 July 15th 2018
Nell Shipman is a curious and romantic figure of early cinema. Born in newly-incorporated Victoria, Canada to prim British stock, she got involved in the rough-and-tumble vaudeville circuit while barely a teenager and married young to theatre impresario Ernest "Ten Percent Ernie" Shipman. The two vyed to join the film industry in 1912 but found too many barriers of entry in Hollywood, instead settling for Canadian funding and thereby leading the charge of Northern cinema. In 1919 the couple courted popular adventure writer James Oliver Curwood and funders in Alberta to begin production of Back to God's Country, based on Curwood's punchy short story Wapi, the Walrus and adapted by Nell. She reoriented the premise, shifting the protagonist from a Great Dane to a heroine of her own creation, DeLores LeBeau, to be played by Shipman herself.
Like that of many pre-industrialized film shoots, the production was scrappy. Nell fell prey to Spanish Influenza in 1918 and lost much of her hair, exacerbating disagreements with Curwood and almost nixing his involvement. The film was shot predominantly on location in the Canadian wilderness and featured many live animal actors. (Nell Shipman's alternate passion was zookeeping, at one point personally shepherding over 200 animals.) The film is today remembered as one of the first nude scenes in narrative cinema: Nell, frustrated by the photographed look of skin-tight suits, opted to go completely naked, working with the cinematographer to devise some clever mise en scene to obscure sensitive areas.
Following the film's success, Nell left Ernest for the production manager Bert Van Tuyle, and with him co-produced and starred in a string of relatively well-liked films marketed as featuring "the girl from God's Country." Nell and Van Tuyle attempted to set up shop in Priest Lake, Idaho, but the rapid Hollywoodization of cinema made it difficult for them to sustain their film studio and zoo. In 1924, filing for bankruptcy, Shipman was forced to ship her beloved animals to the San Diego Zoo, broke up with Van Tuyle, and all but left the industry. She moved to the desert of Cabazon, California where she spent her remaining years. At the end of her life, she wrote enthusiastically about the wave of '60s television shows like Daktari, Gentle Ben, and Lassie that warmly and gently depicted animals and humans co-existing, in contrast to the grisly treatment of animals she witnessed on sets.
Like many of the women featured in BAM's series Pioneers: First Women Filmmakers, Shipman's contributions to film history remain largely inadequately discussed. She penned a lucid autobiography The Silent Screen & My Talking Heart—filled with trade talk and madcap anecdotes—and was the subject of 2003 a book-length study by feminist film scholar Kay Armatage. Her ingenuity as a producer and sense for the potential of non-human actors had wide-ranging influence on the unfolding of cinematic convention for better or worse, from the animal genre films she later adored, to the micro-genre of Canadian adventure pictures, to a whole century of the film industry's reliance on the mere suggestion of the naked female body.