Featured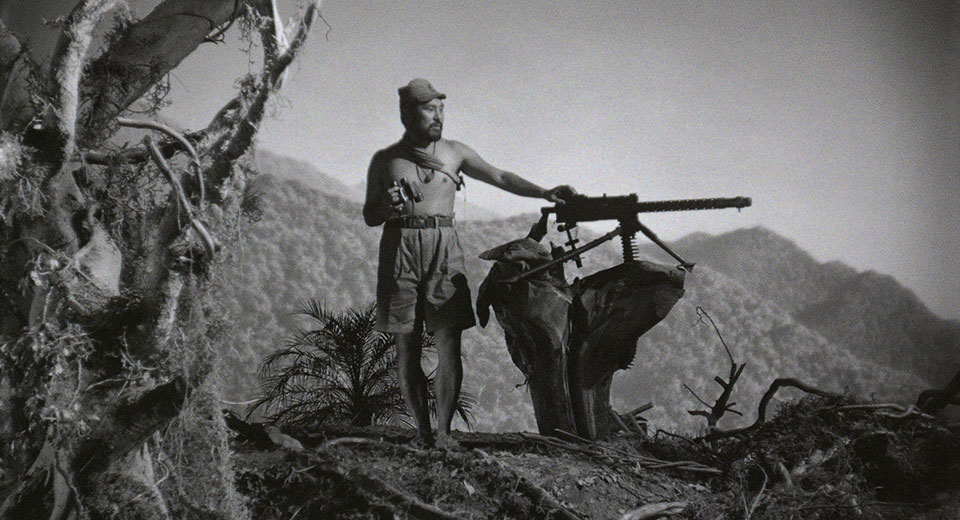 January 31st 2017
The final film by Josef von Sternberg—the Vienna-born, New York-bred director known for his star-making work with Marlene Dietrich in films like Blue Angel (1930) and Shanghai Express (1932)—gets an impressive digital 2k restoration courtesy of Kino Lorber with a week-long run at Metrograph.
Based on true events that were widely reported in Japan at the time, Anatahan tells the story of a dozen Japanese sailors shipwrecked on the remote Pacific island of Anatahan for seven years during and after WWII. As time passes, the men grow increasingly paranoid and hostile, fighting (and killing) each other over Keiko, the island's only woman, meanwhile refusing to believe Japan had lost the war.
A formerly hard-to-see cinematic oddity with a fascinating history, Anahatan was the culmination of Sternberg's long-gestating desire to: a) make a film in Japan b) make a film over which he would have complete control. The opportunity came through the influential producer and distributor Nagamasa Kawakita (a key figure in helping introduce Japanese cinema to the West), who was eager to work in an international co-production after the end of the U.S. occupation of Japan. Burnt out by Hollywood, and fired by Howard Hughes in the middle of filming Macao, Sternberg was similarly ready to put everything into this personal project and immediately moved to Japan to begin working.
Kawakita quickly put together a production company and set up a large space in Kyoto, borrowing crew from Toho studios (including effects wiz Eiji Tsuburaya, who would help bring Godzilla to life a couple of years later) to collaborate on the film. The situation proved ideal for the notorious perfectionist Sternberg, who could now involve himself with every aspect of the film's production—including writing, casting, producing, directing, shooting and providing the film's distinct voice-over narration—in a controlled environment wherein almost every detail of the Pacific island setting was recreated artificially.
In order to overcome the language barrier, Sternberg famously used detailed flow charts to visualize characters' emotions and actions for every sequence, relying less on verbal language to communicate the narrative's overall "psychological and dramatic flow." In this way, his direction emphasized body movements and mask-like expressions in his actors' performances (some of whom were trained in kabuki while others were completely new to acting). The result—in combination with Sternberg's precise lighting, framing, and camerawork—is a simultaneously alienating and hypnotizing film that, despite of its heightened artifice, maintains a consistent, intense emotional resonance.
Sternberg's transnational experiment had the earnest yet naive goal of presenting an "accurate image" of Japan for Eastern and Western audiences while also arriving at universal truths about human behavior. Despite the noble intentions, Anatahan ended up being a commercial and critical failure at the time of its release in 1953. Even so, he held the film in high personal regard (calling it his best) and re-edited it in 1958 with some newly-shot nude scenes in an attempt to appeal to U.S. audiences upon redistribution. Kino Lorber's restoration is of the 1958 cut, which Sternberg ultimately endorsed as the original, authentic version of the film.