Featured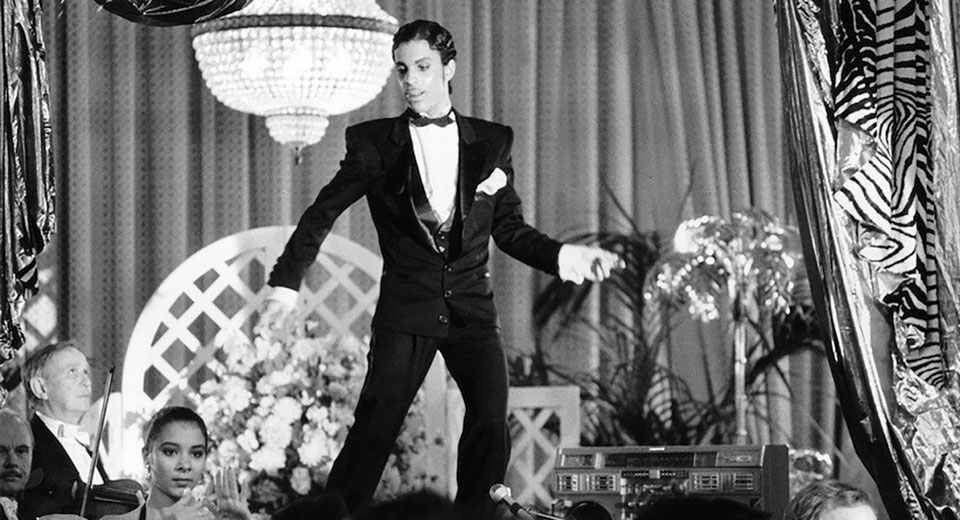 February 24th 2020
The Ringer recently published an oral history of Prince's legendary 2007 Super Bowl halftime show with more than a few illuminating details into the artist's process. Charles Coplin, the show's producer, describes an impromptu press-conference-turned-concert as "... typical Prince: I'm gonna fuck with you, but I'm gonna make you happy." In Under the Cherry Moon, Prince's screwball follow up to the myth-making Purple Rain, Prince is certainly fucking with us, but he knows how to make us happy.
Prince, always ahead of the zeitgeist, plays Christopher Tracy, a scammer on the French Riviera looking for the big score: a rich woman to marry and abscond with her fortune. Mary Sharon (Kristin Scott Thomas, in her screen debut), wealthy socialite, seems to be that woman, but she isn't stupid as she appears. Jerome Bentonof The Time provides comic relief as Christopher's cousin and brother-in-scams Tricky, who worries when Christopher inevitably loses his heart to the beautiful heiress; Prince and Benton have great comic/almost-romantic chemistry. Prince (replacing Mary Lambert early on as director) chose luscious black and white for the film, working with Scorcese's go-to cinematographer Michael Ballhaus to recreate classic Hollywood glamour and tropes, and tweak them with that recognizably Prince sensibility.
Under the Cherry Moon bears the signs of 1980s excess. The public, expecting Purple Rain 2, widely rejected the film, and any hopes of Prince's future in the cinema were dashed (unfairly, as even in his more bizarre, goofy moments as Christopher, Prince's natural charisma shines through). Thankfully, a reevaluation of this singular vision seems to be in progress. Far greater than its bad/"so bad it's good" reputation, Under the Cherry Moon has more in common with pre-codes of the 1930s and screwball comedies of the 1940s than with overblown pop star posturing, and Prince is its irresistible Romantic hero out of time.