Featured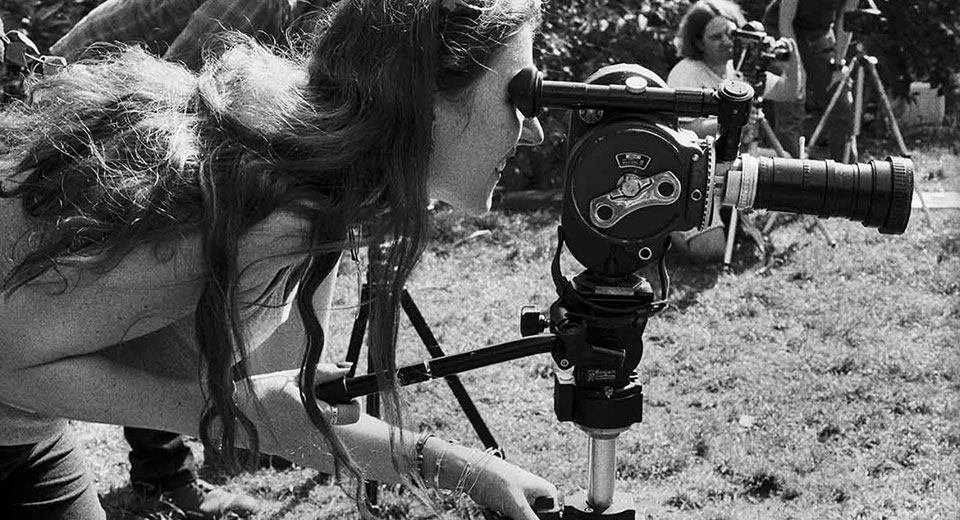 September 16th 2019
Downtown filmmaker Tessa Hughes-Freeland notes in her official bio that her work has screened in venues "from international museums to seedy bars." Her September showcases at Spectacle Theater fall somewhere in between, two well-curated programs of Hughes-Freeland's definitive (yet in some cases underseen) underground shorts, from her earliest, career-defining work in the 1980s, through her experimentations with underground heroes like the Butthole Surfers and David Wojnarowicz, to more recent digital work that fine tunes her musical editing style.
The first chronological program of Hughes-Freeland's work begins with 1981's "Baby Doll," in which topless go-go dancers Ferne and Irene speak in voiceover about their job, their clients, and how wrong stereotypes about sex workers are. Like the stark credits — Hughes-Freeland's director credit stenciled in black on a white-painted brick wall — "Baby Doll" is a bold feminist statement. That anger boils over into "Joker," a 1983 non-narrative experimental ode to masks, fire, and Bette Davis, which marks Hughes-Freeland's move into incorporating classic Hollywood footage into her films. "Virginia Tripping Film" is a fascinating document of a church storefront redecorated in scary, bloody murals by a group of artists (including Marilyn Minter and Wojnarowicz); the lo-fi footage, lit in part by flashlights, stands in ironic contrast to the bombastic Led Zeppelin soundtrack.
The second program includes collaborations with Tommy Turner, Holly Adams, Annabel Lee, and The Workdogs, for whom Hughes-Freeland created "Jane Gone," a montage of Tarzan footage warped and discolored and rearranged into a new story. This program marks the director's move into digital filmmaking, especially "Gift" from 2010, which also shows her moving towards electronic music, creating a hypnotic retelling of movie past, rather than a confrontational one. Hughes-Freeland's work over the two programs runs the gamut from erotic to aggressive to contemplative, sometimes in the span of one dizzying short.
Tessa Hughes Freeland: Program One (1981-1986) screens at 7:30 pm, and Program Two (1987-2013) screens at 10:00 pm. Please note that program two contains graphic depictions of animal vivisection, drug use, and assault that may be troubling to viewers.