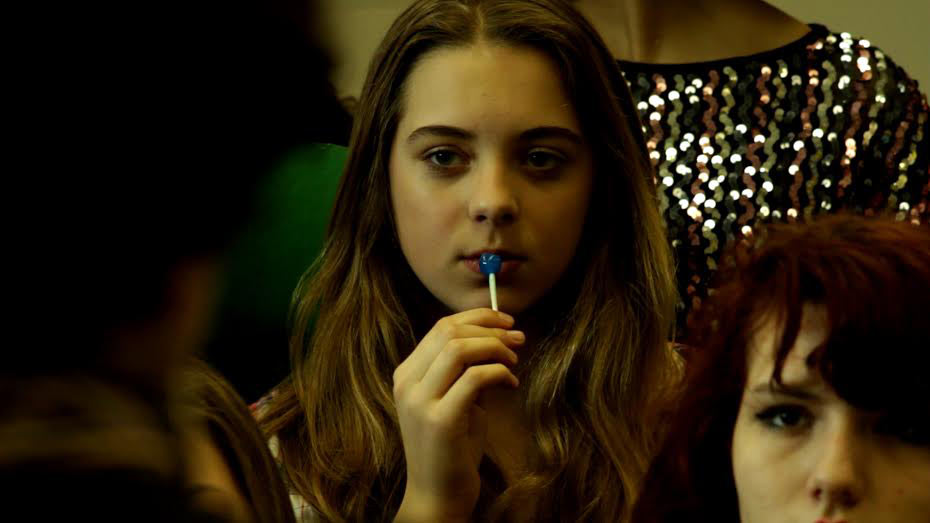 May 13th 2021
"Lynchian" has become such a catch-all adjective for anything remotely strange or unsettling — a talk show musical performance, a so-bad-it's-bad movie, a Disney streaming series, even the former president — that it can be hard to pinpoint Lynch's actual influence on artists. Not so with Jennifer Reeder, a director who has fully earned the sobriquet with her short work and three features. Reeder's otherworldly work focuses mostly on teenage girls and women in crisis and the emotional and physical bonds between them, using the cliches of pop music and everyday existence to allow characters to admit to their deepest desires.
And I Will Rise If Only To Hold You Down starts with a woman practicing ballet in a dark studio, her white limbs contorting monstrously as only dancers' can. Her phone rings and rings, but she ignores it to focus on her practice. When she returns home, her husband's ear is bleeding and bandaged, and her daughter and a friend are getting ready for a school dance. Reeder uses Foreigner's Footloose slow dance anthem "Waiting for a Girl Like You" as the unironic emotional anchor of the film, as the main characters sing the song to themselves, trying to reconnect to their lost love.
Similarly, in A Million Miles Away, characters use universal pop songs like "Like a Prayer" and, in a tour-de-force scene, "You've Got Another Thing Coming," sung by a chorus of teenage girls directed by their nervous new teacher (now that's Lynchian!), to portray a deep sense of dread. When an ASL translator goes off-lecture in Tears Cannot Restore Her: Therefore, I Weep, describing how her boyfriend left her for a 26 year-old PhD candidate who owns every Neil Young album on vinyl, an audience member chimes in with some surprising support: I FUCKING HATE NEIL YOUNG, she signs.
Reeder's short films are about the moments no one sees: a teacher giving her reflection a pep talk that ends with "I love you," best friends tracing words on each other's backs and sending each other psychic messages, girls whispering subtitled gossip to each other in the middle of choir practice — girls who, in the immortal words of Audrey Wollen, own the void and share it with one another.
The series Short Films by Jennifer Reeder is streaming on the Criterion Channel. Several of her films are also available on the director's Vimeo page.