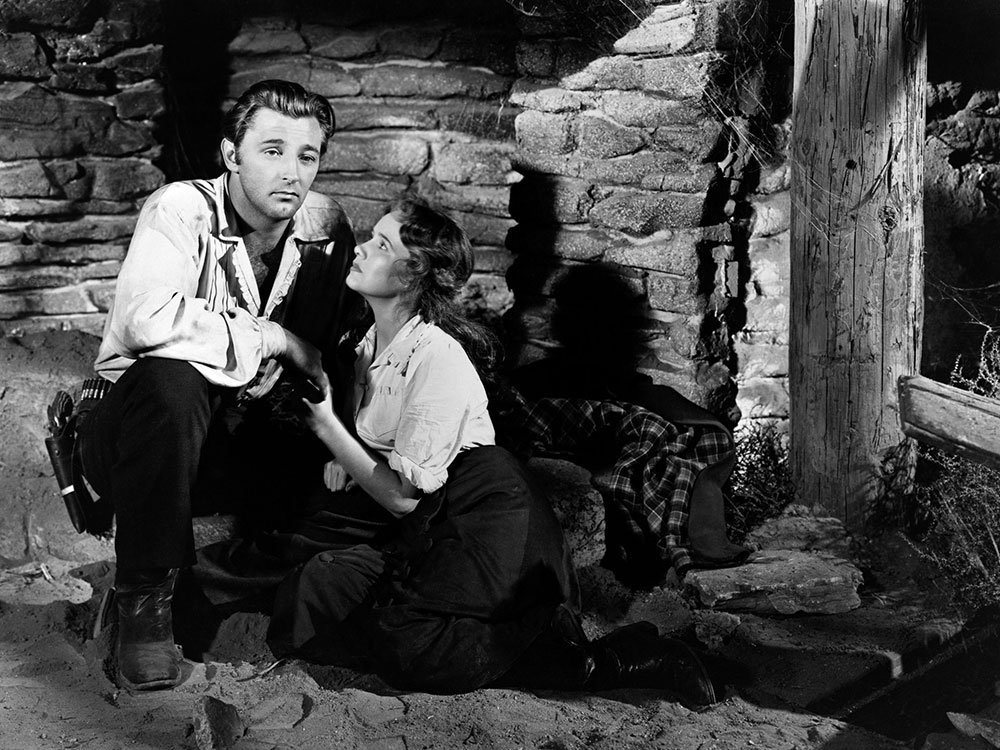 June 3rd 2022
Raoul Walsh's name may be synonymous with a sort of full-throated and knockabout ribaldry, as conveyed by the likes of Errol Flynn, James Cagney, or Wallace Beery, but in Pursued (1947), the director shifted his penchant for singular heroes away from the charming (and even ingratiating) and toward the despondent, as embodied by one Robert Mitchum in the role of Jeb Rand. Mitchum's expected stoicism is disrupted by abstract shards of memory of the night his whole family was murdered, a trauma his adoptive family––Mrs. Callum (Judith Anderson), and her son and daughter, Adam (John Rodney) and Thor (Teresa Wright)––can't dispel. A convoluted history of infidelity-spurred blood feuds à la Our Hospitality (1923) slots Jeb in with those other jaded Walsh protagonists whose respective pasts color their present, like Cagney in The Strawberry Blonde (1941) or Ida Lupino in The Man I Love (1947).
Deciding to stake out his adult life as a Rand rather than a Callum brings Jeb unwanted attention, his parents' assassins champing at the bit to finish the job. As the arbiter of all the ensuing truculent violence, Dean Jagger's one-armed Grant Callum is reliably sinister, though also lazily vulturine: his bloodlust may be of a mythic, obsessive vintage, but he'll gladly manipulate any one of his underlings to finish the job, Adam and Thor included. Jeb suffers numerous damaging quandaries, in which he must decide between self defense and being alienated from the three Callums who gave him a life. It's always tough to see the amiable Harry Carey Jr. gunned down, even harder to watch Mitchum carrying his dying body to one of the sepulchral backrooms throughout the film.
Awash in cinematographer James Wong Howe's impenetrable shadows, the desert of Pursued comes to resemble something like a lunar landscape, monstrous buttes dominating the day-for-night photography and dwarfing the players. The hard edges of the compositions, when coupled with the bloody confluence of memory and duty, point more toward Anthony Mann's westerns with Jimmy Stewart than Walsh's later forays into the genre––Colorado Territory (1949) swaps Pursued's surprisingly rich psychology for predestined tragedy. If it does play too much like a conscious exercise in inversion of the director's perennial practices––look no further than the always excellent Alan Hale Sr. who's resolutely cast against type, playing with a coolness similar to Mitchum's—it's an exercise with catharsis on the mind, and there's nothing more Walshian than that.
Pursued screens tonight, June 3, and tomorrow at the Museum of the Moving Image as part of the series"How It's Done: The Cinema of James Wong Howe."