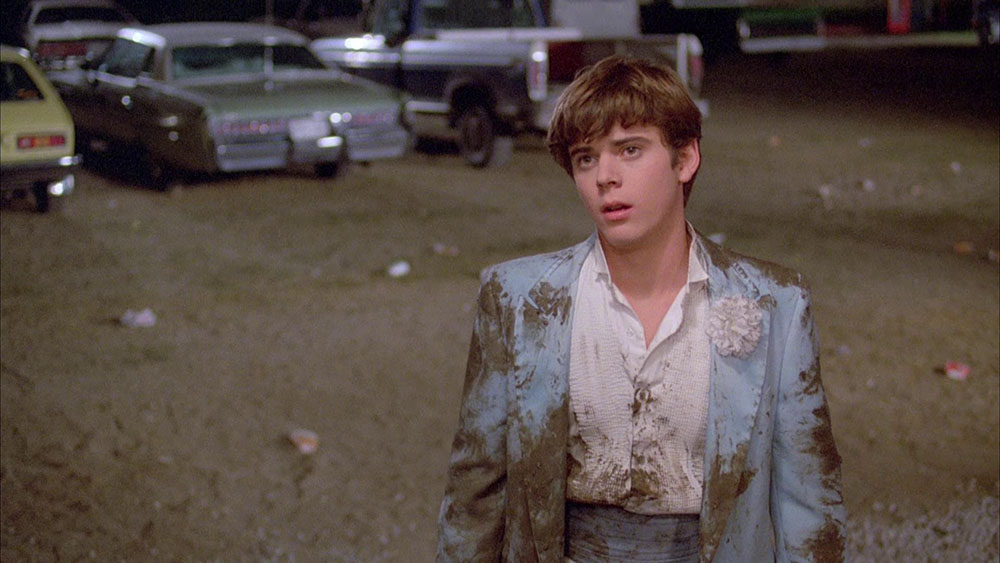 May 25th 2022
The Outskirts is a column by programmer Cristina Cacioppo that looks at films that merit cult status, which have fallen into obscurity and exist outside the categorical.
Amidst sports trophies, a wave motion machine hints that a dreamer lives here. This is where Tim Pearson (C. Thomas Howell) has slept all of his eighteen years, in a little town in the middle of America, where dogs lick ice cream cones from a child's hand and tractors drive the roads. Tim is about to graduate as valedictorian of his class; his daydreams land him in music videos (an early glimpse of MTV sends him adrift in one), but what he really wants to do is study oceanography. When a prom-night car disaster leads him to the local demolition derby, he meets proprietor Michelle "Mike" Cody (Jamie Lee Curtis) and delights in the characters that gravitate toward this place—a stark contrast to the straight-laced life in which he was brought up. Mike had inherited the family business the year before, when her father passed away. She's doing her best to keep it afloat, but a government inspection throws her for a loop. It's clear someone wants her property and is stacking the deck against her.
It may be a trifle of a movie, but Grandview, U.S.A. (1984) is a delightful, low-stakes comedy-drama, peppered with familiar faces, from both John and Joan Cusack, to "The Man of 10,000 Sound Effects" Michael Winslow. The derby stuff is fun, the brimming-with-energy Patrick Swayze as Slam, hollering as he crashes. Slam says, "This place is the only thing that makes me different from anybody else," something he needs to blow off steam, stuck in a troubled marriage as he is. A sort-of love triangle develops when Mike and Tim act on their attraction to each other, even though Mike and Slam have feelings brewing. The casual nature of Mike and Tim's tryst is rather refreshing; we get the sense they have sex as a way of connecting, knowing there's not more to it.
Grandview, U.S.A. at times seems to veer into jukebox-musical territory, probably because director Randal Kleiser carried the torch of his first success—Grease (1978). Swayze also has a credit as choreographer, shared with his wife Lisa Niemi, and apparently the song "She's Like the Wind," popularized in Dirty Dancing (1987), was co-written by Swayze for this movie. In addition to MTV on the television set, there are several other pop shoutouts, including a little sister with multiple Barry Manilow t-shirts and the casting of one-time pop idol Troy Donahue as the man who cucks Slam. The energy of a musical is there in fits and starts, making this a gleeful experience.
Grandview, U.S.A. is available to rent from Vudu and other platforms.