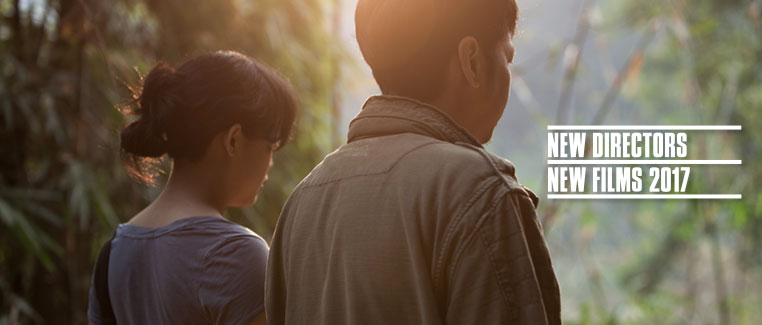 March 12th 2017
Now in its 46th year, the New Directors/New Films festival is an annual partnership between the Museum of Modern Art and Film Society of Lincoln Center dedicated to presenting bold works by early-career filmmakers. Past years have seen the New York debuts of films by Chantal Akerman, Hou Hsiao-hsien, and Kelly Reichardt. For New Yorkers, ND/NF is the calendar year's first look at films arriving on the heels of early acclaim at festivals like Sundance, Rotterdam, and Locarno. This year's lineup includes 29 features and nine short films, representing 32 countries across five continents. "These are distinctive voices you will be hearing a lot from in the years to come," said Film Society Director of Programming Dennis Lim.
This year, for our first-ever ND/NF roundup, we're offering takes on festival highlights from among its 31 programs. We'll be updating our coverage as we go, and the full festival schedule can be viewed here.
Capsules by Cosmo Bjorkenheim, Jon Dieringer, Jeva Lange, and Vanessa McDonnell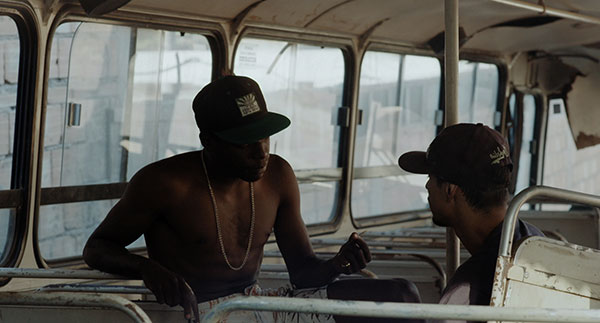 ARÁBIA
Dir. João Dumans & Affonso Uchoa, Brazil. North American Premiere.
3/18 - 4:00 pm (Walter Reade); 3/19 - 6:30 pm (MoMA)
In the words of Cristiano (Aristides de Sousa), the young itinerant laborer at its center, João Dumans and Affonso Uchoa's Arábia is "The story of how I stood up for myself, of how I won and lost." When Cristiano dies of exhaustion working at the local foundry in Ouro Preto, a small industrial town in Minas Gerais, Brazil, teenaged André (Murilo Caliari) finds a journal Cristiano had been assigned to keep by the foundryworkers' drama club. In modest, bare-essentials prose, Cristiano recounts his path from a year and a half in prison for a botched car theft through dozens of odd jobs to the present, from Contagem and Paraíso to Itabira and Ouro Preto, from picking fruit in orchards to renovation work and highway construction. Along the way he meets Barreto the agitator, Cascão the ex-convict, and Ana the textile factory worker, friends, heroes, and lovers who all ultimately disappear from his life. He retells the stories of those he encounters, like a fruitpicker whose father organized 200 orchard workers in the 1970s, went on hunger strike in prison, and met labor union hero and former president, Lula (whose protégée, Dilma Rousseff, was impeached as president of Brazil last year). After sleeping in abandoned warehouses, being cheated of his wages, and losing a child to miscarriage, Cristiano winds up in Ouro Preto breathing bauxite and aluminum until he loses his hearing. By the end of his short life, he dreams only of getting his fellow foundryworkers to abandon the machines, throw away all their money, and spend their days drinking water and sleeping into the afternoon. A humble dream confided to an audience hopefully humble enough to recognize its beauty. (Cosmo Bjorkenheim)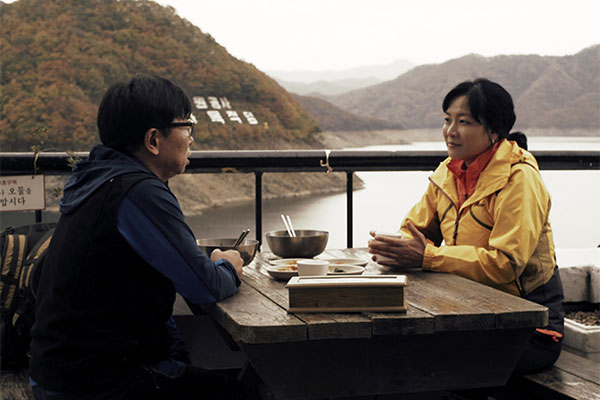 AUTUMN, AUTUMN
Dir. Jang Woo-jin, South Korea. North American Premiere.
3/21 - 9:30pm (MoMA); 3/23 - 6:45pm (Walter Reade)
Autumn, Autumn is a film as finely balanced as its title: Jang Woo-jin's sophomore feature is almost perfectly divided into halves by its title card, which only appears halfway through the movie. The title itself is a translation of the original Korean "Chuncheon, Chuncheon," which is the repeated name of the small town where the events of the story unfold. "We sort of glided past each other," one character tells another, and Autumn, Autumn hinges on that disconnect. In the first story, Ji-hyun (Woo Ji-hyun) returns from Seoul, only to find himself once again trapped in the smothering isolation of Chuncheon. The loneliness goes beyond just a disconnect from his friends to an almost spiritual abandonment: a small neon cross glows in the night, a silent phone creates a halo of light in a dark room, desperate prostrations at a temple yield no obvious results. The second Chuncheon story features two characters who seem no less lonely: the terms of Se-rang and Heung-ju's (Lee Se-rang, Yang Heung-ju) relationship is unclear — perhaps an intended affair arranged over the internet — and they awkwardly discuss their marriages in a restaurant that was earlier visited by Ji-hyun. While Jang shares a fascination in the way two people can never truly connect with his fellow countryman, Hong Sang-soo, his approach is far less comical. As Se-rang notes, gazing out at the landscape, "it feels a bit sad." And as beautiful as Autumn, Autumn is on the surface, the chill of what's to come is felt beneath. (Jeva Lange)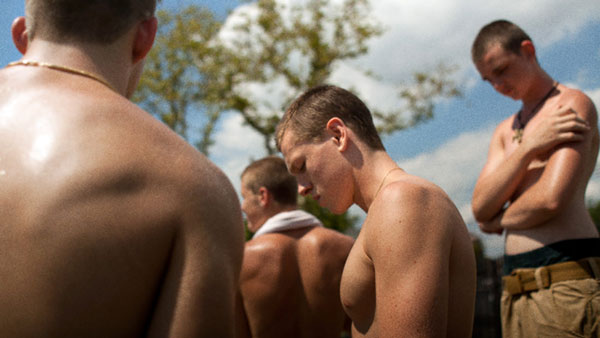 BEACH RATS
Dir. Eliza Hittman, USA. New York Premiere.
3/17 - 6:45 pm (Walter Reade); 3/18 - 6:30 pm (MoMA)
Beach Rats is a painterly, unflinching portrait of Frankie, played by the impressively talented Harris Dickinson, a troubled young man from gritty, working-class Sheepshead Bay or thereabouts who meets older men for sex while trying desperately to maintain an outward air of macho-infused heterosexuality among his family, friends and new girlfriend. His inner ambivalence about his own sexuality finds its ultimate expression in an incident where he lures a man to the beach and invites his delinquent "beach rat" friends along too, which leads to an inevitable convulsion of conflict.
Beach Rats dispenses with the false dichotomy between masculinity and homoeroticism even as its main character struggles unsuccessfully to reconcile his sexual desires with the place he occupies in his particular social order. The film's pace and texture bring Claire Denis to mind, but this unique and subtle portrait of overlapping milieus is all Brooklyn. (Vanessa McDonnell)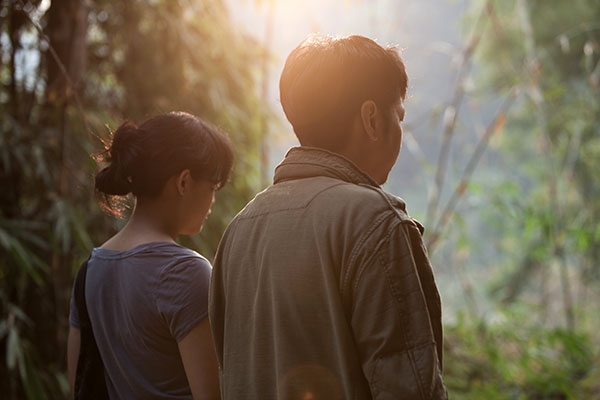 BY THE TIME IT GETS DARK
Dir. Anocha Suwichakornpong, France/Netherlands/Qatar/Thailand. U.S. Premiere.
3/19 - 3:45 pm (Walter Reade); 3/20 - 9:15 pm (MoMA)
It is a maddening task to try to get By The Time It Gets Dark straight; just as you think you've grasped it, it will switch up its pace, intentionally malfunction, repeat a scene with different actors, or cut to footage from another movie. But always at its core, whether addressed directly or not, is the 1976 Thammasat University massacre, when Thai military troops killed at least 46 students in Bangkok (survivors say as many as 100 people or more were killed). While part of By the Time It Gets Dark follows a filmmaker's attempts to direct a fictionalized story about the massacre, the film is perhaps its darkest when at its most abstruse. Characters react to an off-camera car accident death with a disturbing lack of comprehension. Hands brush, then separate, or reach out in the darkness and then disappear. Mushrooms unfurl under time lapse. Certainly the thematic undertones are nothing new: Film could be argued to be the perfect medium for attempting to grapple with recent tragic histories and the way the world so quickly forgets them. For director Anocha Suwichakornpong, though, Thailand has not so much forgotten the tragedy as it has willed itself to. Reality and all its horrors are best grasped through their construction; this film is that mushroom, curling upward, looking for the light. (Jeva Lange)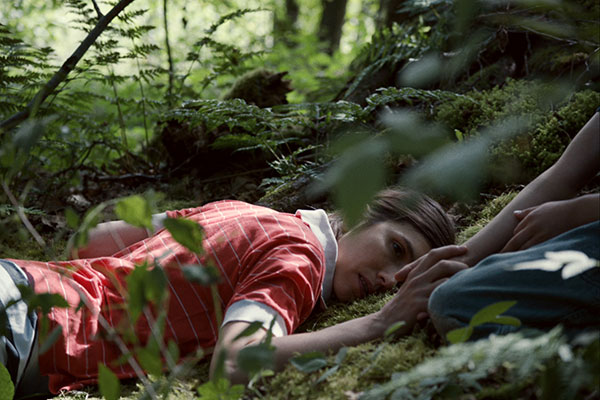 THE DREAMED PATH
Dir. Angela Schanelec, Germany.
3/22 - 6:30pm (MoMA); 3/23 - 9:15 pm (Walter Reade)
It wouldn't be New Directors/New Films without someone whom it is a bit of a stretch to call a "new director," and yet here is indeed a new film by Angela Schanelec, previously given partial retrospective treatment by MoMA in its 2013 series celebrating the Berlin School, of which she is a foundational filmmaker. Possibly the most severe film in the festival, The Dreamed Path tells the loosely interrelated stories of two disintegrating couples separated by about 30 years, which fork in time at almost precisely the film's halfway point, and with no notice or fanfare—or apparent narrative motivation—aside from a discrete cut. As it's traversed the festival circuit, including showings at Locarno and Toronto's Wavelengths, The Dreamed Path has enjoyed a mostly rapturous reception, with writers singling out the exacting quality of its images packed with latent meaning and an uncanny sense of tactility. One's appreciation of the film is no doubt tied to that for rigid performers who speak, if at all, in monosyllables, with little grace, humor, or even dread. It is definitely not Schanelec's Toni Erdmann. (Jon Dieringer)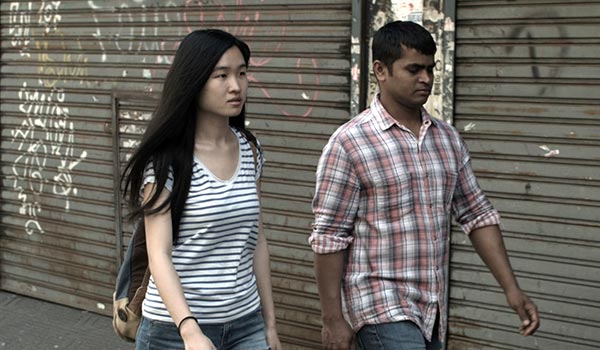 THE FUTURE PERFECT
Dir. Nele Wohlatz, Argentina.
3/18 - 9:00 pm (MoMA); 3/20 - 6:30pm (Walter Reade)
Anyone who has taken on the arduous task of attempting to learn a second language in adulthood will sympathize with 18-year-old Xiaobin (Zhang Xiaobin), the charming heart of Nele Wohlatz's 65-minute-long The Future Perfect. Narrated in the awkward, halting speech of a second language learner practicing Spanish with her teacher, The Future Perfect finds Xiaobin moving from China to join her family in Buenos Aires, where she is promptly fired from her job at a deli after failing to understand the names for different meats. Unbeknownst to her parents, Xiaobin begins taking Spanish language lessons and starts dating an Indian immigrant, whom her parents would certainly disapprove of. Playing with the possibilities that are afforded by the future perfect tense, Xiaobin's story is a short, sweet window into a rarely filmed — but often experienced — struggle to find the language to fit in. (Jeva Lange)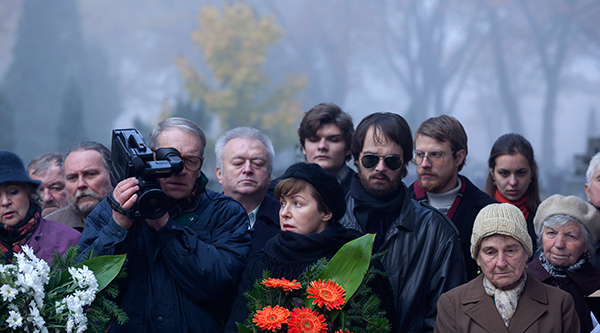 THE LAST FAMILY
Dir. Jan P. Matuszynski, Poland.
3/16 - 8:45 pm (MoMA); 3/18 - 9:15 pm (Walter Reade)
32-year-old Jan P. Matuszyński's debut feature, The Last Family , tells the true story of the Beksiński family's colliding lives in a concrete slab housing project in Warsaw from 1977 to 2005. Zdzisław Beksiński (Andrzej Seweryn) was a painter of oneiric, freak-populated fantasy landscapes, his son Tomasz a noted DJ and New Wave popularizer, and his wife Zofia a long-suffering caretaker and mother. From their initial move-in to the freshly constructed high-rise—with both grandmothers in tow—through Tomasz's frequent suicide attempts and several violent crises, we witness every extreme of care, disgust, tenderness, and spite that a family is capable of. There are few conventional quarrels: Zdzisław dismisses Tomasz's view that populations should be capped at 50 years of age with lethal injections as "Utopian 19th-century theories;" he explains that although the family is the basic unit of Socialist society, Jung was right to observe that all simple emotions—like love—are necessarily accompanied by their opposites; he argues with the doctor treating his terminally depressed son that suicide is a courageous act.
Cinematographer Kacper Fertacz's static compositions match the rectilinear Plattenbau architecture within which all the action takes place, and through cut-in camcorder footage we experience the development of recorded media technologies from the early 1970s to the mid aughts, from VHS cameras to digital point-and-shoots, from typewriters to answering machines, from cassette tapes to dial-up. The Last Family is a compendium of the eroding memento mori of a family that didn't shy away from death but lived with its reality and grappled with its impact from one day to the next. (Cosmo Bjorkenheim)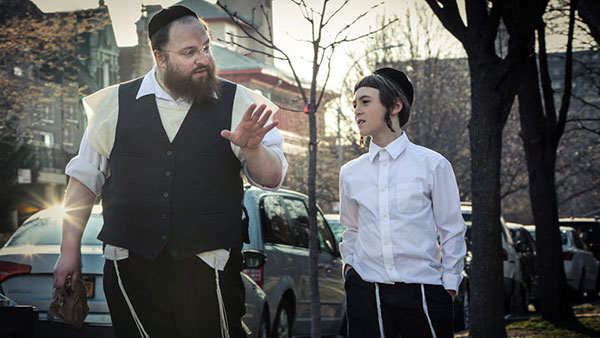 MENASHE
Dir. Joshua Z. Weinstein, USA. New York Premiere.

3/20 - 9:00 pm (Walter Reade); 6:30 pm (MoMA)
Title character Menashe (played by Menashe Lustig) is a widower who lives in a tightly knit, rule-bound ultra-Orthodox Jewish community in Brooklyn, barely holding on to his job in a supermarket. He has a son, Rieven (Ruben Niborski), who is prohibited from living with him as a single man, and has been sent by the rabbi to live with Menashe's prosperous and judgemental brother-in-law. The only way to get Rieven back is for Menashe to marry again, something he is deeply reluctant to do after his difficult arranged marriage to his first wife.
Menashe doesn't caricaturize its subjects or their community, nor does it seek to present them as exotic or excessively insular. The mostly Yiddish dialogue is concerned with the small complexities of daily life vis a vis family, community and work, and the compelling particularities are presented with subtlety and directness. (Vanessa McDonnell)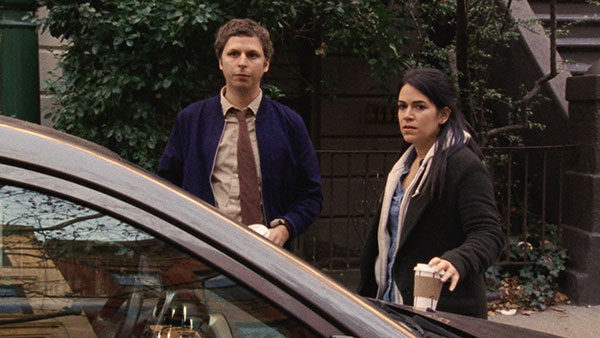 PERSON TO PERSON
Dir. Dustin Guy Defa, USA. New York Premiere.
3/25 - 6:30 pm (Walter Reade); 3/26, 4:15 pm (MoMA)
Person to Person is a love letter to dying New York breeds, featuring an ensemble cast which has unusually intense conversations with one another. Bene Coopersmith, playing himself, to some extent, is a kind-hearted record collector with "music in his soul" who gets ripped off on a fake copy of The Bird Blows the Blues and has to make the world right again. His buddy Ray (George Sample III) is paralyzed with remorse for putting naked pictures of his girlfriend on the internet. Unrelated, Michael Cera is a reporter for the thinly-veiled Daily News who's also in a metal band called "Cock Killer". He tries hard to impress his new protégé Claire (Abbi Jacobson) who only wants to quit and go home. They lurk around the scene of a murder trying to get the scoop on the Post.
All of the characters speak with the same voice, engaging in bouts of relentless self-probing where they say things to complete strangers like, "I'm too emotionally detached from life to cry." This is no limitation, as the film's overarching mind and mood is capably serious as well as funny, coaxing our generosity. Shot on 16mm in a palette that fully embraces brown over good jazz and soul music, nothing too bad or real happens in this alternate universe where people care deeply about each other. When a slow-motion chase scene on bicycles ends with one character getting punched, his tone is firmly philosophical when he says, "Oh, it hurts." (Vanessa McDonnell)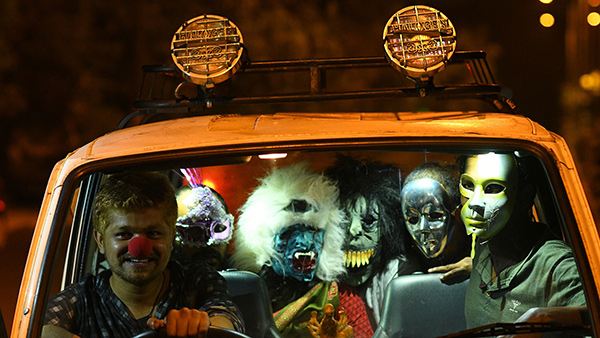 SEXY DURGA
Dir. Sanal Kumar Sasidharan, India. North American Premiere.
3/21 - 9:30 pm (Walter Reade); 3/22, 9:00 pm (MoMA)
For the first 10 minutes of Sanal Kumar Sasidharan's lean Malayalam thriller Sexy Durga, one could be forgiven for mistaking it for run-of-the-mill docufiction festival fare. The lengthy prologue begins with documentation of a ritualistic celebration of the Hindu goddess whose name is profaned by the film's provocatively impious title before plunging into the universal language of urban myth and social terror. A hitchhiking newlywed couple—a Malayali man and his Hindi-speaking wife (also named Durga) from the northern states—flags down a delivery van in hopes of catching a lift to a nearby train station, only to quickly find themselves ill at ease. One barely need guess where this is going, and indeed, Sexy Durga was allegedly unscripted and improvised by its non-professional cast, shooting over the course of 20 nights between the hours of midnight and 3:00 a.m., into something that riffs on tried-and-true genre tropes. The result is a pointed critique of machismo that should be a no-brainer for cinephiles who can fuck with both early Wes Craven and Anand Patwardhan's Father, Son, and Holy War. (Sasidharan has said the film is about "how we worship goddesses on the one hand and how we treat women on the other.") Yet neither of those filmmakers have created images like the eerie grace of Sasidharan's roving, curious camerawork that often drifts from the vehicle's cramped confines to chart the contours of the nocturne Keralan countryside, one cast under further shadow by tense nighttime encounters with browbeating police and aggressive patriarchs. Although existing in the lingeage films ranging from The Virgin Spring to The Hitch-Hiker, Sexy Durga never explicitly veers into direct physical violence (unless the Malayalian trash metal soundtrack counts). Instead, the disquieting tone and refusal to offer climax, catharsis, or resolution commands unrelenting dread and fascination. (Jon Dieringer)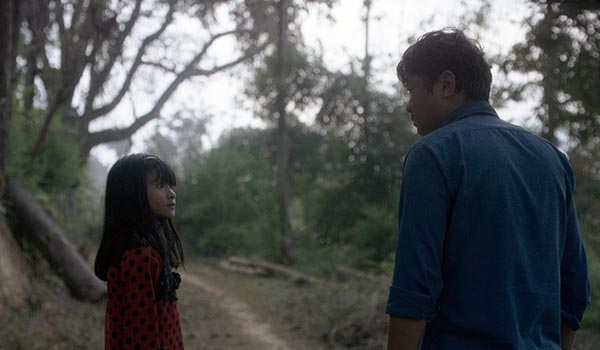 While new directors are oftentimes still working out kinks during their first or second features, Nepali director Deepak Rauniyar has the markings of a true master in his powerful rural drama White Sun. Chandra (Dayahang Rai), a Maoist rebel, returns to bury his Royalist father in a cripplingly traditional village of Nepaltra in the Himalayan Mountains. In Nepaltra, Chandra is reunited with his strong-willed ex-wife Durga (Asha Magrati), who is actively seeking a better life for her daughter, Pooja. Also in Nepaltra is Chandra's Royalist brother, whose political bickering leads the brothers to punches during their father's funeral procession. If Nepali politics are not your forte, the basics are clear enough to pick up while you're watching; White Sun is additionally backdropped by the creation of Nepal's first constitution, an unmistakable nod to a nation at a crossroads. The film's title, in fact, is a reference to Nepal's flag, the only one in the world that is not rectangular in shape — the dimensions are actually defined in the nation's constitution. And while the sun represents Nepal's warriors, its opposite is never far in White Sun: the moon, symbolizing peace. (Jeva Lange)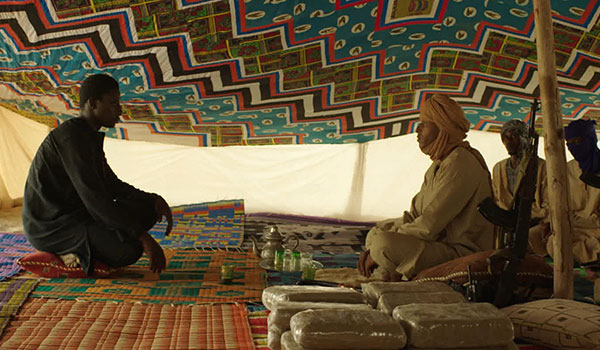 WÙLU
Dir. Daouda Coulibaly, France/Mali/Senegal.
3/18 - 1:30 pm (MoMA); 3/19 - 6:45 pm (Walter Reade)
From van driver earning $2 a day to trafficker pulling in $4,000 a week, the journey of Wùlu's 20-year-old protagonist Ladji (Ibrahim Koma) is modeled in the inexhaustible tradition of the 1930s Hollywood gangster film, here adapted to a fictional narrative about the Malian drug trade in the late-aughts during the runup to the country's northern conflict. Ladji is a kind kid who realizes he won't earn enough honest money to pry his sister Aminata (Malian-French singer Inna Modja) from the sex trade, so he calls in a favor from a reluctant old friend, a local drug boss, and sets out with two of his pals to work a route between Bamako and Guinea's coastal capital Conakry. (Much of the filming actually took place in Senegal.) It's a familiar trajectory; like Sexy Durga, albeit far more tightly scripted and professionally acted, Wùlu is not preoccupied with making any particularly audacious tweaks to genre formula. But French-Malian director Daouda Coulibaly has his dramatic chops down pat, keeps things moving at a steady clip, and handles the few action scenes well. Where the film distinguishes itself from its forebearers is that the bling never shines quite so brightly, and Ladji's career highs barely measure up to Tony Monatana's first act. The sweeping, dramatic themes to which so much lip service is typically paid while ensconced in celebration of gangster lifestyle are here pursued in earnest; Wùlu has a sincere interest in its character's soul and the future of his country. (Jon Dieringer)