Featured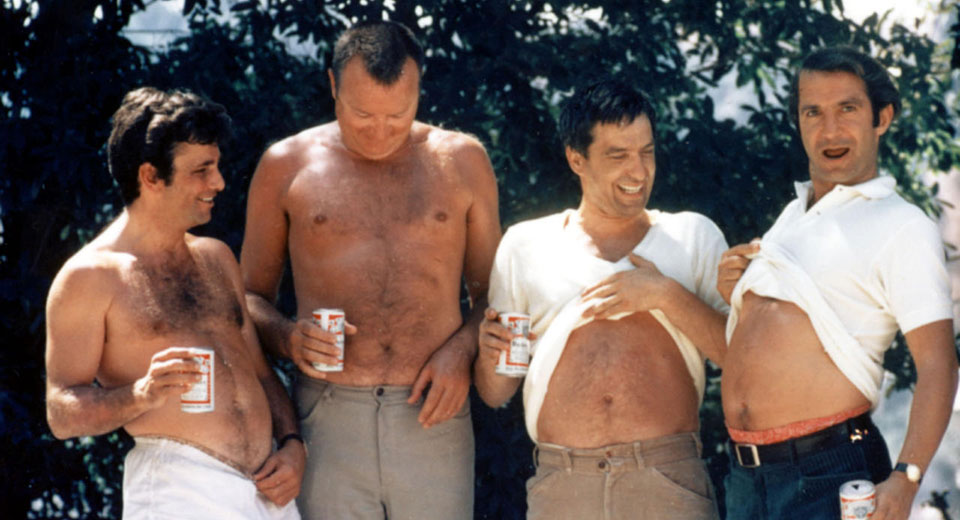 July 17th 2017
In the catalogue of films about platonic male love, few have the same sensitivity for its codes and complications as Husbands.  This tale of a middle-aged, suburbanite trio (real life buddies Ben Gazzara, Peter Falk, and director John Cassavetes, all at the top of their game) mourning the recent death of their pal—and their youth—by going on an endless memorial bender suggests that, for many, the truest way to express one's feelings is by throwing them up.
Masculinity and alcohol may both be toxins, but one of Cassavetes' greatest gifts was knowing how to marry the two. Director and cast are wise enough to know that all the bad behavior in the world can't quite break the laws of midcentury hetero affection, and with each sweaty "I'm ok you're ok" back slap the repressing of some deeper feeling never seems too far away. Booze can be the doorway to emotion as well as the cover that blocks it, and as John & his gang of lost men go deeper on their journey of group obliteration (including a tanked trip to not-so-swinging London), the audience is given much room to wonder at how the things we actually do and say most often obscure the ones we don't.
Roasted to death by Pauline Kael and Roger Ebert in its original release, Husbands has nevertheless matured handsomely into the DCP era. The film's current revival at BAMcinématek is a chance to squirm over how clearly its drunk tank oratory still speaks in the present day, and though the questions it asks of men may be basic, they are perennial. That Cassavetes and his friends still managed to have such a blast making it gives this picture a bittersweet, Frank Capra-like tenderness which, for all its sometimes revolting messiness, feels pretty much classic. Boys will be boys indeed.