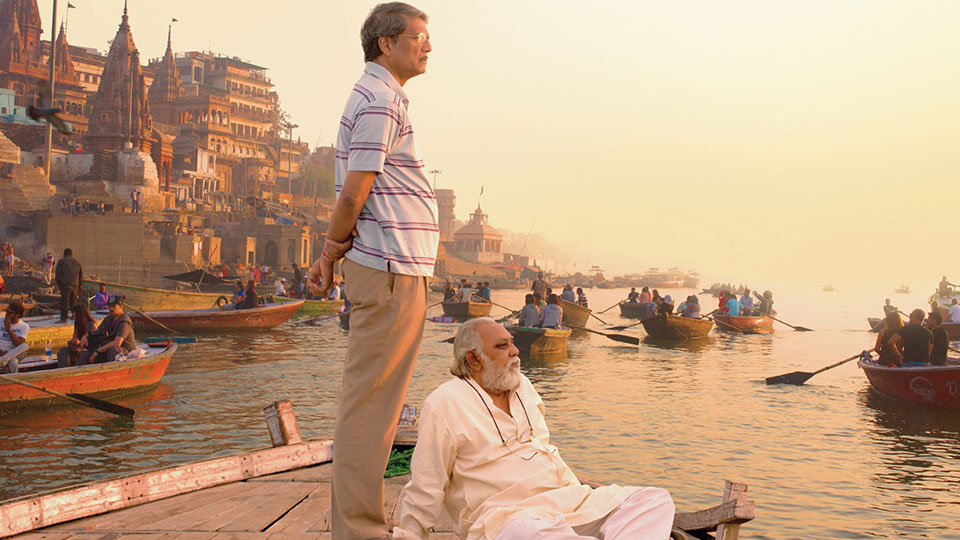 July 11th 2020
Three generations play tug-of-war in Shubhashish Bhutiani's remarkable film Hotel Salvation (Mukti Bhawan). This game of arguments, philosophies, and choices all dance around the reality that as life moves on, so do priorities. Humans tend to be locked into a mindset that develops around the economic and social realities of their post-adolescence, and while nearly everyone is capable of change, certain beliefs become a fixed part of one's self. Hotel Salvation concerns Daya (a wonderful Lalit Behl), a septuagenarian who has decided that he would like to spend his last years in an ashram in Varanasi on the banks of the holy river Ganges. He brings his middle-aged workaholic son Rajiv (an even more incredible Adil Hussein) along with him, but a rift forms between them.
An ashram is sort of like a monastery. It's a place of quiet echoes, enclosed in parts, open in others, and its tranquility is supposed to direct one towards silence and self-reflection. Bhutiani and cinematographer Michael McSweeny film Hotel Salvation's ashrambeautifully, taking advantage of the simple but eclectic stone interiors that play around with light and shadows. While Daya uses the location to find peace in the last days of his life on Earth, Rajiv spends the time fussing and worrying about work and getting his daughter an arranged marriage. When she refuses, he erupts.
As Daya looks into the great beyond, Rajiv is tethered and committed to the pains and issues of the mortal world, and his daughter defies her bondage to a marriage in hopes of blazing her own path towards an optimistic future. As in Yasujiro Ozu's Tokyo Story, the generational rift is one that brings loggerheads over priorities. We see each generation's values in their confrontations. By having this discussion in a holy place of mostly elderly residents, Bhutiani builds the metaphor as a reflection on the ideas that no generation really has a full command of the world for too long. Ideas, people, attitudes, and fundamental priorities change with time.