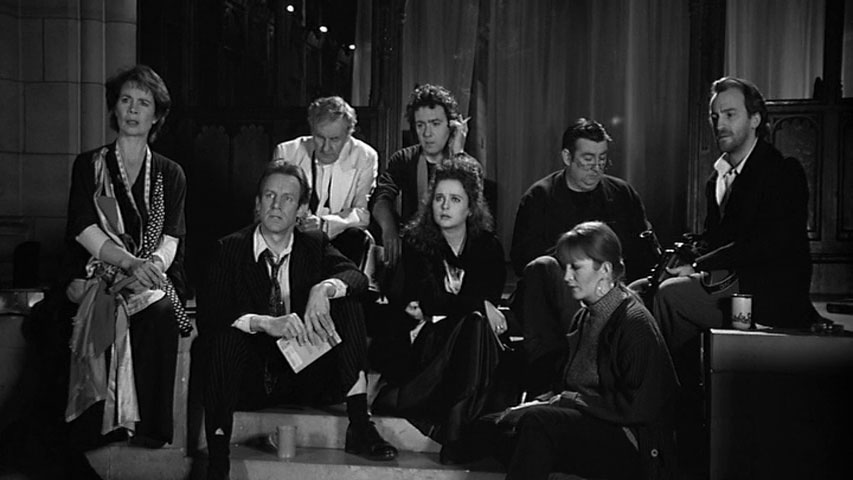 December 19th 2020
Following his financially successful but tepidly reviewed Mary Shelley's Frankenstein (1994), Kenneth Branagh seemed to be in need of an escape from the ballyhoo of big budget studio films. His follow-up, the overlooked 1995 independent film In the Bleak Midwinter (released in the U.S. as A Midwinter's Tale), appears to be the sort of artistic homecoming the actor/filmmaker might have been looking for.
In the film,Branagh's surrogate Joe (Michael Maloney), a struggling actor, leaves London at Christmastime to stage a "free and experimental" production of Hamlet in his hole-in-the-wall hometown of Hope, Derbyshire (much to the chagrin of his agent, the plucky and ever-glamorous Joan Collins). Set in a crumbling church that doubles as his ragtag theater troop's lodgings (two actors, to great comic effect, bunk in the crypt), Joe's shoestring production falters financially and creatively from its outset. Noel Coward's catchy Why Must the Show Go On? trots through montages overflowing with clumsy missteps and catty disagreements. The show, somehow, manages to continue, and the cast's idiosyncrasies — and deepening personal connections — ultimately become what makes the production something special. On the eve of opening night though, Joe is offered a high-profile film role he's been chasing and must decide between the career-cementing opportunity and what he really wants to do — play Hamlet.
Branagh released a full text, film version of Hamlet, shot in 70mm Panavision the year after A Midwinter's Tale and its small-scale staging of Shakepeare's tragedy. The actor, who had played the morose Danish prince several times before on the stage and radio, performed Hamlet on screen with a shock of platinum blond hair. In numerous interviews, Branagh has said that his enduring interest in the play was first sparked at age 11, when he watched a TV broadcast of Hamlet produced by Hallmark Hall of Fame.
Anyone who's ever fallen into the cheap velvet embrace of Hallmark Channel Christmas movies knows the formula: a big city protagonist relocates to a small town for the holiday season, learns to believe in "good will towards men" and all that, and eventually faces a choice between love and career. Brannaugh's heartwarming yuletide tale follows this seasonal recipe closely. But its charming cast, elegant cinematography, and dashes of absurdist humor create a far tastier and significantly more nourishing holiday meal.
In the Bleak Midwinter is available to rent on Prime.