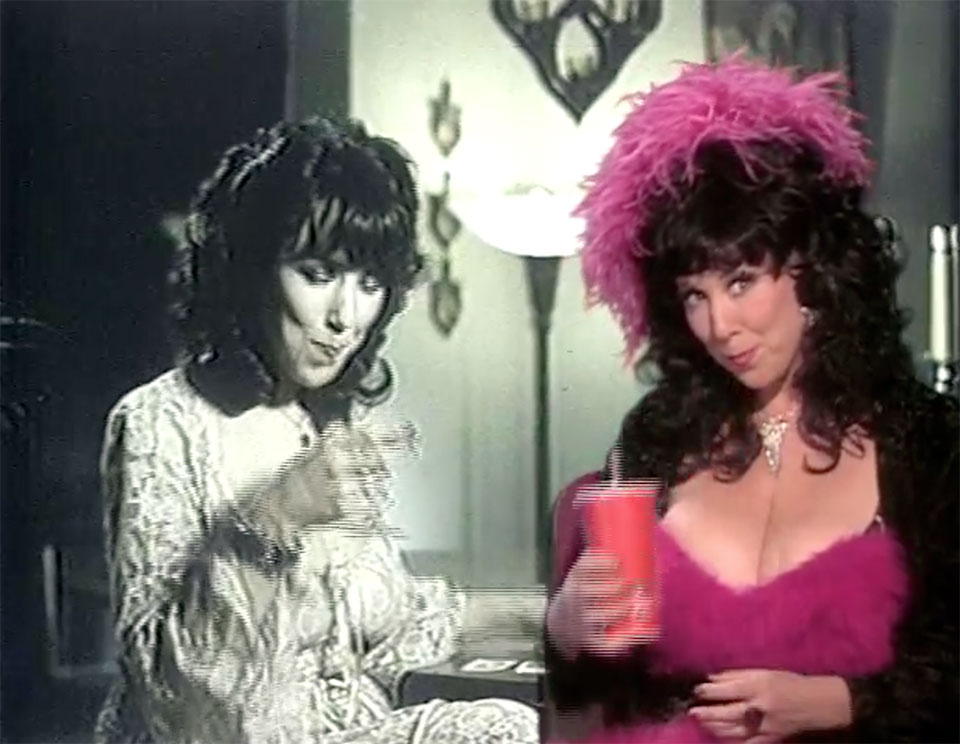 January 7th 2021
The rise of videotape in the 1980s made the history of film more readily accessible, and made it easier for artists and thinkers to construct alternative histories of the medium. Works like Mark Rappaport's Rock Hudson's Home Movies (1992), Thom Andersen and Noël Burch's Red Hollywood (1996), and Jean-Luc Godard's eight-part Histoire(s) du cinéma (1989-1998) all radically recontextualized familiar images, with Godard's mammoth series expressing a particularly conflicted relationship with the art form he once unambiguously loved. A year after Godard's project, porn star-turned-performance artist Annie Sprinkle interrogated her own sphere of cinema with Annie Sprinkle's Herstory of Porn: Reel to Real (1999, co-directed with Scarlot Harlot). Adapted from Sprinkle's one-woman show, it charts her artistic, philosophical, and sexual evolution across 27 years and 100+ pornographic movies, many of them quite terrible. Godard's oft-quoted maxim, "In order to criticize a movie, you have to make another movie," gets a variation from Sprinkle, who says, "The answer to really bad porn is not no porn, but to try to make better porn."
Herstory of Porn unfolds in segments set in significant years between 1973 and 1999, with Sprinkle affecting her persona from each era. We learn that the former Ellen Steinberg was a naïve, 21-year-old concession-stand employee at an adult movie theater whose life was changed when she saw Deep Throat. She struck up an affair with its director, Gerard Damiano, and followed him to New York, where she became a fixture of the nascent porn industry's one-day wonders. Herstory shows extensive clips from these films, with 1999-era Sprinkle framed as if watching them on a theater screen, à la MST3K. She peppers the clips with anecdotes and comments: "This director was a big fan of Ingmar Bergman, and he wanted to make a film with more passion and more drama and more depth. So, we used a big, fat kielbasa sausage…" Unlike some '70s porn legends, Sprinkle was more interested in sexual adventurism than acting, and what we see of her filmography is a roll call of kink: S&M, piercing, menstrual blood, amputee fetishism, golden showers, and rainbow showers. ("It's just canned soup, don't take it too seriously, okay?")
The centerpiece section is devoted to Deep Inside Annie Sprinkle (1981) – her most popular film, and the first on which she was credited as writer/director. In this first-person, personality-driven vignette film, Sprinkle takes her audience on a guided tour through her fetishes. "I wanted to make a movie where the people sitting watching it weren't just sitting watching it," she says in Herstory. "Something where they were a little more intimately involved. Something more interactive. So throughout the film I talked directly to the camera." After so much time spent enacting male fantasies, many of them violent, Sprinkle positions Deep Inside as something of a feminist reclamation of her screen persona: "It was I who became the sexually aggressive one. No one had to force or manipulate me into sex – I was the one that wanted it. And the guys? They better just watch out."
Deep Inside contains a scene in which Sprinkle services several solitary male strangers at a Times Square porn theater – so, if it's a feminist movie, it's not one that does much to challenge the male gaze. The second half of Herstory sees Sprinkle moving away from the mainstream porn world after its unwillingness to embrace safe sex during the AIDS epidemic, and her work becomes less constrained by industry conventions. Her second directorial effort, Rites of Passion (1987), was made for Candida Royale's "couples' porn" company Femme Productions, and is the autobiographical story of a woman who discovers tantra after growing tired of her humdrum sex life. It's telling that during the protagonist's period of sexual malaise, her TV is seen playing… Deep Inside Annie Sprinkle. Later in Herstory, we see scenes from subsequent, increasingly avant-garde productions: Sluts & Goddesses Video Workshop (1992), a peculiar "how-to" guide that plays like a collaboration between Kenneth Anger, Carolee Schneemann, and… well, Annie Sprinkle; the pioneering Linda/Les & Annie: The First Female-to-Male Transsexual Love Story (1992); and Nick Zedd's exquisitely-titled underground oddity War Is Menstrual Envy (1992).
For all its outré content, Deep Inside Annie Sprinkle climaxes with a surprisingly conventional, downright wholesome man/woman encounter, with Annie assuring us that "nice, delicious, sensual lovemaking with a guy I really like" is what she likes "more than anything in the whole world." More recently, Sprinkle (now 66) has been credited with defining "ecosexuality" as an identity, and has articulated her ideas in her recent Water Makes Us Wet: An Ecosexual Adventure (2019). This mid-career Herstory of Porn is the missing link in this daisy chain: a pansexual buffet that concludes not with a return to normalcy, but with a desire to create something new – in art, sex, or preferably both at the same time.
Annie Sprinkle's Herstory of Porn: Reel to Real is available to stream on PinkLabel.tv.