Featured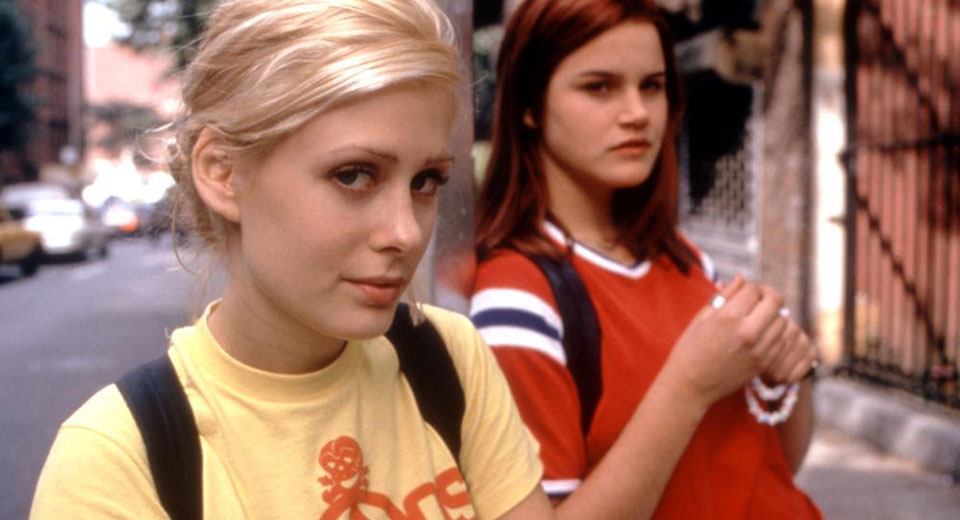 August 27th 2019
When Hell's Kitchen teen Claude (Alison Folland) wanders into a dimly lit "girl bar" one late Manhattan night in 1996, her world lights up. Claude is fifteen and stumbling through a shaky adolescence with her hapless hot mess of a best friend Ellen (Tara Subkoff), whom she loves… or is in love with? Claude's not so sure about anything until she gets her switch flipped by seeing this fateful performance by the fictitious riot grrrl rockers Coochie Pop, featuring none other than Helium's Mary Timony and, fortuitously, the Run Lola Run-haired rocker chick (The L Word's Leisha Hailey) that she had her eye on in a guitar store the previous day. Claude kisses her, she asks Claude if she has a girlfriend, and Claude's not sure what to say.
The first, and unfortunately only, narrative feature by the New York born-and-raised Sichel sisters, director Alex and screenwriter Sylvia, All Over Me is exactly the kind of eminent artifact I have come to count on Quad Cinema & NewFest's "Coming Out Again" series to resurrect. It depicts a treacherous New York seen through the summer sun-stippled, rose-colored glasses of youth, as when Claude compels her hungover friend to lay on her back and look up at a swaying tree on 47th and 10th — right next to a foreboding strip of yellow police tape. The girls will later come to learn that the barrier enclosed the scene where a hate crime occured, namely the murder of a young queer guy in Claude's building who took a knowing shine to her; recommending the gay rock club and helping carry her groceries back to the apartment of Claude's absent-minded mother (Ann Dowd, humbly Ann Dowd-ing as she has been for decades).
All Over Me is, on the one hand, an obvious attempt to reconcile the "where are your teenagers?" morbidity of then-recent phenomenon Kids with the trendy cache of riot grrrl, which was in cultural reality fading but had just been picked up by the mainstream press. But on the other, nothing else quite like it exists. The credits end with a boldly exclamatory "GIRLS ROCK," and the soundtrack screams with scene-adjacent acts like L7, Babes in Toyland, and perhaps the raddest Sleater-Kinney track, "I Wanna Be Your Joey Ramone." The way the tertiary queer characters are drawn to each other without a word is downright heartwarming, and Claude's passion for music comes across as real boiling zeal when it could've been a lame ploy for cool cred. The opening scene where she attempts to coach Ellen through a half-assed sped-up practice of their "band's" only song is immediately endearing. As a final testament to how inspiring the film is in paving the way for ramshackle tales of the young queer experience, the credits list Jamie Babbit as a script supervisor — a full two years before she would go on to direct But I'm a Cheerleader and enter the same canon on her own terms.
Producer Dolly Hall and writer Sylvia Sichel are in attendance for tonight's screening.